---

To Do or Not to Do – There Is No Try
Marilyn LaStrape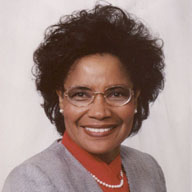 Those who are Star Wars fans are very familiar with the characters in that movie and who said what and why. Casandra Martin wrote Living the Jesus Resolution. She challenges the reader to join her in making a resolution that will change your life, committing to looking like Jesus. One of the thoughts in her book is entitled, "Yoda." In Star Wars, Master Jedi Yoda tells Luke, "Do. Or do not. There is no try." When I was sharing this with one good sister, she finished the last part of the quote for me – a dyed in the wool Star Wars fan!
I have since relegated the word "try" to being powerless in view of God's expectations. As Christians growing toward spiritual maturity, trying is totally unacceptable in our pursuit of right and righteousness. If we expect to see heaven, "striving" is the word we must embrace. V.E. Vine's Dictionary defines the word "strive" as "to contend, laboring fervently, to fight." Webster defines it, "to exert oneself vigorously; to make strenuous efforts toward any goal."
On His way to Jerusalem, someone asked Jesus, were there just a few who were being saved? Jesus said to them, "Strive to enter through the narrow gate, for many, I say to you, will seek to enter and will not be able" (Luke 13:24). Hopefully, we did not let the utter profoundness of that eternal truth get by us! In comparing the narrow and wide gates, Jesus had said in Matthew 7:13-14 that the gate to destruction was W-I-D-E and would be filled with many. Of the narrow gate He said, "For the gate is small and the way is narrow that leads to life, and there are few who find it." The Lord was telling us that a few will strive to enter not merely try to enter the way that leads to eternal life.
In Acts 24, Ananias the high priest had brought charges to the governor Felix against Paul. When Felix nodded to Paul to speak in his own defense, he challenged the Jews to prove their accusations. Paul said in verses 14-16, "But this I confess to you, that according to the Way which they call a sect, so I worship the God of my fathers… I have hope in God… that there will be a resurrection of the dead, both of the just and the unjust. This being so, I myself always strive to have a conscience without offense toward God and men."
Paul said in Philippians 3:14, "I press toward the goal for the prize of the upward call of God in Christ Jesus." Paul was saying he had and so must we have our lives in a focused, thorough, attentive and careful quest for heaven! It is hard to find many folks who are not familiar with Philippians 4:13, "I can do all things through Christ who strengthens me." It ranks right up there with John 3:16 in familiarity.
However, have we taken the time – really – to examine what Paul said? Paul said, "I can" – not – "I will try" to do all things. Nearing the end of his life, he made this declaration: "I have fought the good fight, I have finished the race, I have kept the faith" (2 Timothy 4:7). Not once did he say he tried to fight the good fight; or he tried to finish the race; or even that he tried to keep the faith. He boldly stated he had done all of it! He also said, "Finally, there is laid up for me the crown of righteousness" (vs. 8). Paul had total assurance of his eternal reward – no hoping, guessing, thinking or wishing there was a crown laid up for him. We must be able to say, as it were, the same thing.
Paul spoke of the incomparable, preeminent Christ in Colossians 1:13-29. In verse 28, Paul declared that he gave the church at Colossae all the teachings that God had given him. "Him [Christ] we preach, warning every man and teaching every man in all wisdom, that we may present every man perfect in Christ Jesus." Paul further stated in verse 29, "To this end I also labor, striving according to His working which works in me mightily." The power of God through the Word worked in Paul because Christ was his life!
Paul warned Timothy about how the devil traps some Christians with their love of money. They stray from the faith in their greed and pierce themselves through with much grief. He appealed to him, "But you, O man of God, flee these things and pursue righteousness, godliness, faith, love, patience, gentleness" (1 Timothy 6:11). Notice Timothy was told to "flee" – not "try" to flee Satan's schemes. Are we trying to go to heaven or are we striving to get to heaven? To do or not to do; there is no try!

---
King of the Jews
Beth Johnson
And he bearing his cross went forth into a place called the place of a skull, which is called in the Hebrew Golgotha: Where they crucified him, and two other with him, on either side one, and Jesus in the midst. And Pilate wrote a title, and put it on the cross. And the writing was, JESUS OF NAZARETH THE KING OF THE JEWS. This title then read many of the Jews: for the place where Jesus was crucified was nigh to the city: and it was written in Hebrew, and Greek, and Latin. Then said the chief priests of the Jews to Pilate, Write not, The King of the Jews; but that he said, I am King of the Jews. Pilate answered, What I have written I have written. (John 19:17-22)
The phrase "King of the Jews" is used 18 times in the New Testament Scriptures – each time referring to Jesus. At the time of Jesus' birth (Matthew 2:2) there was a prevalent expectation that some remarkable person was about to emerge in Judea. The Jews were anxiously looking for the coming of the Messiah. By computing the time mentioned by Daniel (9:25-27), they knew that the period was approaching when he would appear. The person they were looking for was supposedly going to be a temporal prince, and they were expecting that he would deliver them from Roman bondage. It was natural that this expectation should spread into other countries. At the time, many Jews lived in Egypt, Rome or Greece. Also, many had gone to Eastern countries, and in every place they carried their sacred writings and talked of their expectation that some noteworthy person was about to arise.
The Jews were all looking for the kingdom of God (Luke 3:15; 17:20; John 1:41). Daniel had prophesied the world-ruling kingdom of God would be established in the days of Rome (2:44). By the time Christ was born, Rome had ruled the world for about 80 years, and the Jews and even many in the world knew the kingdom could come any time. If the Jews could find the king, they could find the kingdom (John 1:41; 3:28; 4:28-29; 4:42; 7:41; 10:24). Although the Jews looked for the kingdom, because of envy, they crucified the very one the multitudes identified as the King.
Whether or not Pilate was convinced of what he wrote, he used three languages to write for the world to see that Jesus was the king of the Jews (Luke 23:38)! He rejected the Jews' demand to alter the writing or remove it (John 19:22).
Even the thief testified that Jesus' kingdom would be set up after his death (Luke 23:42). Peter accused the Jews of crucifying their King (Acts 4:10), and on the day of Pentecost, Peter proved that God had foreordained the King of the kingdom would be put to death (Act 2:23). It was not until after His death that Jesus was crowned with all power in heaven and earth (Matthew 28:18).
Jesus is King over His spiritual kingdom. Only His citizens can claim Him as their King (John 18:36). Jesus was made both Lord and Christ. The name "Christ" means "anointed one." Jesus is both Lord and King (Acts 2:36). He is Lord over all men (Acts 10:36).
Jesus has been exalted with authority above every authority, not only on this earth but also in heaven (Matthew 28:18). He is approved as Lord not only in this life but also in that which is to come (Ephesians 4:21). Jesus is not seated as king of a physical nation (John 8:23). He is King of the Jews, but only in a spiritual sense (Romans 9:6-7). His kingdom is not of this world; it is not a physical kingdom (John 18:36). He is King of all people who are spiritual Jews (Romans 2:28-29). He is King only of those who are translated into His marvelous kingdom (Colossians 1:13).
The King of the Jews has made all His subjects priests to offer spiritual sacrifices (1 Peter 2:5-9; Hebrews 13:15). If His people suffer with Him, he will make them kings to reign with Him (2 Timothy 2:12). If His citizens overcome the battle with Satan, He will give them power over the nations as He received of His Father (Revelation 2:26-27). If His citizens overcome, they will reign with him forever and ever (Revelation 22:5). Blessed be the King of the Jews (Luke 19:38)!

Click Here for a FREE monthly reminder when each new issue
of Gospel Gazette Online has been published to the Internet.
Click Here to send the URL for this page to a friend
Click Here to send your comments about this page to Gospel Gazette Online