| | |
| --- | --- |
| Vol. 5, No. 8 | August 2003 |
King of Kings
By Hugo McCord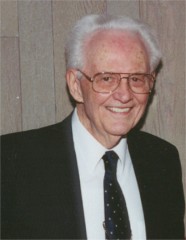 According "to the eternal purpose" of "God, the only being truly wise," Jesus Christ has become "the Ruler of the kings of the earth," the "King of kings" (Ephesians 3:11; Romans 16:27; Revelation 1:5; 17:14). The holy Scriptures set forth four stages in the heavenly plan:
I. A King Is Coming!
In the second millennium (c. 1852 B.C.), God promised Abraham that "kings will come from you" and "Sarah" (Genesis 17:6, 16). Then (c. 1706 B.C.) Abraham's grandson Jacob, a prophet, said that his son Judah was the one who would be the ancestor of a special coming king: "The scepter will not depart from Judah, nor a lawgiver from between his feet, until Shiloh comes, and him the peoples will obey" (Genesis 49:10).
"Shiloh" (from shalah, to be at rest, safe, secure) means a man of peace, a bearer of security, a peacemaker. Later Isaiah would call the coming king sar shalom, Prince of Peace (9:6). And David reported (Psalm 2:2) what God had said he would do for Mashiah, Messiah (in the Hebrew), for Christos, Christ (in the Greek): "Most certainly I will anoint my king in Zion, my holy mountain" (Psalm 2:6). Moreover, God spoke directly to that special coming king about a thousand years before he was born: "Ask me and I will make the nations your domain and you will possess the whole world" (Psalm 2:8).
In anticipation, God said to the coming king that he would "send from Zion the scepter of your power, saying, 'Rule in the midst of your enemies'" (Psalm 110:2).
About 740 B.C. the coming king was still on God's mind, and he inspired the prophet Isaiah to write:
For to us a Child will be born, to us a Son will be given. The government will be on his shoulder. His name will be called Wonderful Adviser, the Mighty God, the Father of Eternity, the Prince of Peace. The increase of his government and peace will be endless, upon David's throne and kingdom, to establish and to support it in justice and righteousness for always. The zeal of Yahweh [God's "name forever," Exodus 3:15] of hosts will do this. . . . His throne will be set in order in loving-kindness. He, of David's lineage, will seek justice and swift righteousness (Isaiah 9:6-7; 16:5).
About 555 B.C. the prophet Daniel wrote that "in the days of these kings [from Nebuchadnezzar down to the Roman Caesars, 606 B.C.-476 A.D.] the God of heaven will set up a kingdom which shall never be destroyed" (2:44).
About 518 B.C. the prophet Zechariah wrote that the coming king would "bear the glory, and shall sit and rule upon his throne" (6:13).
With all the above predictions foretelling the coming of a special king, one understands why there was a general understanding about "the Coming One" (Matthew 11:3), and "that when Messiah comes, the one who is called `the Christ,' he will tell us everything" (John 4:25).
II. On His Way!
In 5 B.C. "the angel Gabriel was sent from God to Nazareth, a city of Galilee, to a virgin engaged to a man named Joseph, of the house of David" to tell her:
You will be with child and bear a son, and you will call his name Jesus. . . . The Lord God will give him the throne of David his father, . . . and his kingdom will never end (Luke 1:26-33).
After the baby was born, wise men "came from the east to Jerusalem," asking, "Where is he who has born King of Jews?" (Matthew 2:1-2).
When the King to be was about 30 years old (26 A.D.) the devil gave him an opportunity to become monarch of "all the world's kingdoms" if he would "fall down and worship" the devil (Matthew 4:8-9). Jesus' response to the "tempter" was, "Go away, Satan, for it is written, 'You shall worship the Lord your God, and you shall serve only him'" (Matthew 4:3, 10).
Jesus was not about to bargain for a kingdom "of this world" in place of the long promised "kingdom of heaven" (Matthew 4:17). He called it both the "kingdom of heaven" and the "kingdom of God" (Matthew 4:17; Mark 1:15). He said that, from the time of John the immerser, "the kingdom of God is being proclaimed" (Matthew 3:2; Luke 16:16), and he asked his disciples to pray to the Father, "May your kingdom come" (Matthew 6:9).
Jesus knew that his cousin John (killed in 28 A.D.) would not live long enough to become a citizen of the kingdom of heaven (Matthew 11:11). The citizens of that kingdom would be the "called-out" people, now called "the church" (Matthew 16:18-19).
In 29 A.D. Jesus had another opportunity to become a worldly king. When he "saw that they [thousands of people] were about to come and seize him, to make him a king," he went "into a mountain alone" (John 6:15).
In 30 A.D. (Sunday, April 2), when Jesus rode a donkey into Jerusalem, his disciples shouted, "Blessed is the King who comes in the name of the Lord" (Luke 19:38), and "Blessed is the coming kingdom of our father David" (Mark 11:10). He accepted their acclamation, "I tell you that, if these hold their peace, the stones will cry out" (Luke 19:40).
Was he yearning for an earthly kingdom? On the contrary, the incident makes laughable any idea of an earthly kingdom. A king? Where was his crown? his sword? his military honor guard? his chariot or his stallion? Instead, a "gentle" King, "riding on a donkey, even on a colt, the offspring of a donkey" (Matthew 21:5). His only earthly crown was one of prickly thorns (Matthew 27:29).
Five days later (Friday, April 7), the penitent thief, dying on his cross, somehow knew that Jesus was yet on his way to his kingdom, as he requested: "Jesus, remember me when you come into your kingdom" (Luke 23:42).
Similarly, Joseph of Arimathea knew that when Jesus died, he was not yet a king, for he was still "waiting for the kingdom of God" (Mark 15:43). Clearly, then, while Jesus was in the flesh he was not a king, because he "had not yet been glorified" (John 7:39). The "throne of his glory" was yet in the future (Matthew 19:28). He was still the heir apparent, on his way to becoming "the King of kings."
On the Sunday "evening" of Jesus' resurrection day (April 9, A.D. 30), he "breathed on" his apostles, and said to them, "Receive the Holy Spirit" (John 20:22). But this breathing on them was simply an anticipatory gesture 50 days in advance when he would in fact pour (ekcheo) out the Holy Spirit upon them (Acts 2:33). Actually, before he became king in fact at God's right hand in heaven (Psalm 110:1-6; Hebrews 10:12-13), he did not have authority to dispatch the Spirit.
Even 40 days after his resurrection, on his ascension day (May 18), he still was not a king with authority to dispatch the Spirit, for he told the apostles to "tarry in the city until" they had been "clothed with power from above" (Luke 24:49), and to "wait for the Father's promise, which `you heard from me, that . . . in a few days you will be baptized in the Holy Spirit'" (Acts 1:4-5).
III. King in Fact and Act
1. Coronation Day.
Ten days after Jesus' ascension (Pentecost Sunday, May 28), he was "exalted to God's right hand" as "King of kings" and "received from the Father the promise of the Holy Spirit" (Acts 2:33). The first act of his kingship was to pour the Holy Spirit upon the apostles, giving them power "to speak in other languages, as the Spirit was inspiring them" (Acts 2:1-4).
On coronation day, May 28, A.D. 30, God's determined thousand year old prediction about the coming Christ, "Most certainly I will anoint my king in Zion, my holy mountain" (Psalm 2:6), was fulfilled. On that day the apostle Peter announced that "God had made" Jesus "both Lord and Christ" (Acts 2:36).
Therefore, Pentecost Sunday, May 28, A.D.30, was Jesus' coronation day, as the pleased and happy Father figuratively anointed Jesus "with the oil of gladness" and actually called him "God": "Your throne, O God, is forever and ever, and the scepter of righteousness is the scepter of your kingdom" (Hebrews 1:8-9; cf. Psalm 45:6).
As the breathing on the apostles on April 9 of the Holy Spirit was not actual, but only anticipatory of his sending the Spirit to the apostles on May 28, so Jesus' announcement while yet on the earth that he had "all authority" (Matthew 28:18) was not actual, but only anticipatory of the authority that he exercised on his coronation day.
Similarly, the delay in Jesus' dispatching the Holy Spirit to the apostles, and the delay in his exercise of "all authority," explain the delay in preaching in the name of Jesus. Preaching in the name of Jesus was not done during Jesus' personal ministry (three and a half years, 26-30 A.D.), but it was done in the name of God the Father: "Hallowed be thy name" (Matthew 6:9, KJV). On Thursday (April 4), before he died on Friday, he had told the apostles, "Until now you have asked nothing in my name. Ask, and you shall receive" (John 16:24).
But asking in Jesus' name did not begin on that Thursday, but 53 days later, on the day of Pentecost. On Sunday, May 28, for the first time, repentance and baptism were commanded to be done "in the name of Jesus Christ" (Acts 2:38). On that day, after the apostles had been "endowed with power from on high" from the newly installed king, they began doing what he had told them on his ascension day: "repentance and remission of sins" were to "be preached in his name among all nations, beginning at Jerusalem" (Luke 24:49), and is to be continued until the "last enemy," namely, "death," is destroyed (Acts 4:12; 10:48; Colossians 3:17; Philippians 2:9-11; 1 Corinthians 15:26). Thus we see that Jesus, raised from the dead "to sit" on David's throne (Acts 2:29-30) did not actually sit there until Pentecost Day, May 28, and so did not pour out the Spirit, did not exercise "all authority," and did nothing in his name until Pentecost Day, May 28.
The actuality of Jesus' sitting on David's throne, now spiritual and in heaven, as Jesus began holding "David's key," opening "and no one will close," closing and "no one will open" (Revelation 3:7), on May 28, the first "Lord's Day" (Revelation 1:10). What happened that day makes out of date a petition in the prayer that Jesus had taught his disciples: "thy kingdom come" (Matthew 6:10). To pray for the kingdom to grow is not out of date, but to pray for the kingdom to come after it has come is nonsense.
2. How Does Jesus Rule?
An insight as to how Jesus rules "the kings of the earth" (Revelation 1:5) may be gained by studying how God the Father previously had ruled in the kingdoms of men. Nebuchadnezzar learned that "the Most High rules in the kingdom of men, and gives it to whomsoever he will" (Daniel 4:12). Jesus told Pilate, "You would have no power over me, if it had not been given to you from above" (John 19:11).
God had used even wicked nations to serve his purpose. Often he made "the wrath of men" to praise him (Psalm 76:10), such as Pharaoh (Exodus 9:16; Romans 9:17) and Nebuchadnezzar (Jeremiah 25:9; 50:23). Though Cyrus, the king of Persia, did not recognize God, yet God used him to bless Israel (Isaiah 45:1-5). The book of Daniel, describing "the king of Greece" as a "rough he-goat" (8:6), was shown to Alexander the Great as he passed through Jerusalem in 333 B.C. (Josephus, Antiquities, 11, 8, 4). God allowed Herod the Great "to destroy all the boys in Bethlehem and all the region around up to two years old" (Matthew 2:16). At times God allowed kings to be "set up," but "not by me" (Hosea 8:4). At times he has allowed Satan to have authority over "all the kingdoms of men" (Luke 4:5-6).
Jesus, now the ruler of "the kings of the earth" (Revelation 1:5), is following his Father's pattern. He allowed King Herod Agrippa I (44 A.D.) to kill an apostle, James the brother of John "with the sword" (Acts 12:2). He allowed Emperor Nero (67 A.D.) to burn Christians (John Fox, The Book of Martyrs). He allowed Emperor Domitian (81-96) to bathe "the empire in the blood of Christians" (Barnes). In our own times Jesus has tolerated a Hitler and a Hirohito. But Christians know, regardless of what happens in this life, that "Blessed are the dead who die in the Lord" (Revelation 14:13).
Someday the King of kings will make himself visible, "sitting at the right hand of Power and coming on the clouds of heaven" (Matthew 26:64). Then "every eye shall see him, and those who pierced him" (Revelation 1:7). The Father "has appointed a day in which he will righteously judge the world by that man whom he has appointed" (Acts 17:31). The Father himself "judges no one, but he has given all judgment to the Son" (John 5:22). At that time, "all of us must appear before Christ's judgment seat, that each one may receive the things he did in his body, whether good or bad" (2 Corinthians 5:10).
3. How Does One Become A Citizen In Jesus' Kingdom?
On the must list is "the good confession," a crucifixion of self, a burial in baptism, a resurrection from "the water," a second birth (1 Timothy 6:13; Matthew 7:21; 16:24-25; Romans 6:4; John 3:5; 2 Corinthians 5:17; Ephesians 5:26).
After "the bath of the new birth" (Titus 3:5) a penitent believer, while still wet enters "the kingdom of God's beloved Son" (Colossians 1:13).
4. What Is The Nature Of His Kingdom?
Jesus made it clear to Governor Pilate that "my kingdom is not of this world" (John 18:36). Jesus' kingdom is not physical and not visible, a spiritual reality inside (entos, Luke 17:21) a Christian's heart, consisting of "righteousness and peace and joy in the Holy Spirit" (Romans 14:17).
The internal, spiritual nature of Jesus' kingdom is portrayed in the Lord's Supper. He had said to the apostles: "I assign to you a kingdom even as my Father has assigned to me, that you may eat and drink at my table in my kingdom" (Luke 22:29-30).
The bit of bread and the sip of grape juice are insignificant, but they tell of something going on inside a Christian's mind: a soul in spiritual meditation in memory of what the Savior did. And not the least part of the weekly observance is Jesus' assurance that spiritually he partakes with Christians "new with you in my Father's kingdom" (Matthew 26:29).
5. All Christians Are Kings And Queens. Some manuscripts and the KJV say that all Christians are "kings and priests" (Revelation 1:6; cf. 5:10). That all Christians are kings and queens harmonizes with the statement that "they reign [present tense] on the earth" (Revelation 5:10, ASV). Do not let the translations mislead you that say Christians "will [future tense] reign on the earth" (KJV, NKJV, NASB, NIV, NRSV).
There are good Greek manuscripts that have the future tense, but they are wrong, for the reigning of Christians is now, in this life, on the earth, not in the future. In the future, at Christ's second coming, the earth "will be burned up" (2 Peter 3:10).
Since the earth will not be here for Christians to reign on in the future, the Greek manuscripts that caused the ASV to say in Revelation 5:10, "they reign [present tense] on the earth," have to be correct.
But how do Christians now in this life reign on the earth? Each individual Christian is a king or queen reigning over his or her own body. If a Christian gives way to sin, then sin reigns in that Christian. But if a Christian refuses to give way to sin, then the Christian is now reigning.
Christians are commanded, "Let not sin reign therefore in your body," and "sin shall not have dominion over you" (Romans 6:12, 14). Each Christian, as he assumes sovereignty, reigning over himself, takes "control over his own body in dedication and honor, not in passion of lust, even as the Gentiles who do not know God" (1 Thessalonians 4:4-5).
Each Christian is also a priest, male and female (Revelation 1:6; 5:10, ASV), offering up "spiritual sacrifices, acceptable to God through Jesus Christ" (1 Peter 2:5). Since each Christian is a reigning king, all of them together make up "a royal priesthood" (1 Peter 2:9). They present their "bodies a living sacrifice, holy, acceptable to God, [a] spiritual service" (Romans 12:1). Also they "offer up a sacrifice of praise to God continually, that is, the fruit of lips which make confession to his name" (Hebrews 13:15).
IV. The King Will Return the Kingdom
When Jesus, on April 9, A.D. 30, had conquered "him who" had had "the power of death, that is, the devil" (Hebrews 2:14), fifty days later (May 28) he "sat with my Father on his throne" (Revelation 3:21), with "all authority in heaven and the earth" having been given to him.
But Jesus' sitting on his Father's throne does not mean that he had displaced the Father. "In all things, God is the head of Christ" (1 Corinthians 11:3). The throne was shared, and it is called "the throne of God and of the Lamb" (Revelation 22:3), in "the kingdom of Christ and God" (Ephesians 5:5).
However, the Father was still number one, and "it is clear that the one who subjected all things" to Jesus did not subject himself (1 Corinthians 15:27). Accordingly, the Scriptures also present Jesus as sitting "at God's right hand" (Psalm 110:1; Hebrews 1:13; 8:1; 10:12; 12:2), and "standing at God's right hand" (Acts 7:55).
From that eminent and exalted position Jesus reigns as "King of kings, and Lord of lords" (Revelation 19:16); and he will continue there "until he has placed all enemies under his feet," the last being "death" (1 Corinthians 15:26). At that time Jesus will "deliver the kingdom to God" (1 Corinthians 15:24).
However, even after Jesus delivers the kingdom to God, that "beloved Son, with whom," God had said, "I am well pleased" (Matthew 3:17; 17:5), will not be displaced. In God's "eternal purpose" (Ephesians 3:11), written a thousand years before Jesus was born (Psalm 45:6), he will keep on reigning "forever and ever" (Hebrews 1:8). And with him, "if we endure, we will also reign with him" (2 Timothy 2:12) "forever and ever" (Revelation 22:5).