Volume 21 Number 5 May 2019
---
Jesus Is God
Sunny David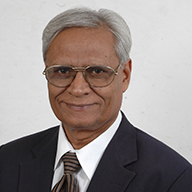 Many have asked the question, "Who is Jesus Christ?" Some have answered by saying, "He was a great teacher, a good man or a prophet." Some have thought that Jesus was wholly man and not God at all. They say His beginning was with His birth into the world. Some believe that Jesus was the most glorious of God's creation, but still a creature. Still some others say Jesus existed in Heaven from the beginning with God the Father as His Son. Then, there are those who believe Jesus to be one of the incarnations of God, who appeared in the world in different forms, at various times. They believe in recurring manifestations of God who appeared in human form to give direction to men on earth; so, they think that Jesus was one of these appearances of God made on earth.
Conflicting views arise about the Person of Jesus Christ because people speak from hearsay and the opinions of men. However, if we want to learn and to know the truth about Jesus Christ, then, we must go to the primary source of information about Him, that is, the Bible. Who is He according to the Bible? Let us investigate biblical testimony in order to evaluate and to determine what God's truth on the subject is.
According to the Bible, Jesus is unique in both His Person and His purpose. He wasn't just some spiritual leader, teacher or a prophet during His time on earth. Instead, He was both God's Son (John 3:16) and God Himself—God in human flesh. He was fully man on earth, but He was also fully God (Colossians 2:9). More than seven hundred years before the birth of Jesus on earth, the Old Testament prophet Isaiah had prophesied, "Therefore the Lord Himself will give you a sign: Behold the virgin shall conceive and bear a Son, and shall call His name Immanuel" (Isaiah 7:14). Matthew 1:23 tells us that Immanuel means, "God with us." Regarding His supernatural birth, He was born of the virgin Mary, confirming that He was and is the Son of God (Matthew 1:18-23).
The fourth Gospel account according to John begins with these words concerning Jesus: "In the beginning was the Word, and the Word was with God, and the Word was God. He was in the beginning with God. All things were made through Him, and without Him nothing was made that was made" (John 1:1-3). Even though John identified the Word, being with God and God Himself, we would have difficulty determining what he meant without further explanation. Therefore, he further wrote, "And the Word became flesh and dwelt among us, and we beheld His glory, the glory as of the only begotten of the Father, full of grace and truth" (John 1:14). So, there should be no question regarding the identity of the Word. The Word, the second Person in the Godhead or the Divine Nature (Romans 1:20; Acts 17:29) became a man and dwelt among men. He Himself was in the beginning face to face with God, existing from all eternity as a distinct Person. Thus, the full Deity of Christ, His eternity and His distinct personal existence, are shown here. That is, within the Word was the characteristic of Deity, the power of life, separate and apart from any external source.
One further point John emphasized, in John 1:18, is, "No one has seen God at any time. The only begotten Son, who is in the bosom of the Father, He has declared Him." Apparently, men have always had a desire to know of God's existence and of His nature. John here informs us that we can know about the Father by knowing the Son. Jesus Christ, the Son, has declared God the Father. The nature and the attributes of God are revealed through Christ whose identity with man is also perfect. Jesus Christ has revealed and manifested God to man. The more we know about Jesus Christ, the more we know about God. Being in the bosom of the Father suggests the most intimate union and identity with God on the part of Christ. Also, the bosom of the Father is best understood not as a literal place or location but as a state of existence.
Christ's claims to Deity are scattered throughout the Gospel narratives. John's Gospel was written primarily to prove the Deity of Christ. Toward the end of his book, he wrote, "And truly Jesus did many other signs in the presence of His disciples, which are not written in this book; but these are written that you may believe that Jesus is the Christ, the Son of God, and that believing you may have life in His name" (John 20:30-31). Jesus Himself proclaimed His Divinity on many occasions. In speaking to the unbelieving Jews, He took a very strong stance as He addressed and affirmed the subject of His Divinity (Deity) in issuing a categorical imperative. "Therefore I said to you that you will die in your sins, for if you do not believe that I am He, you will die in your sins" (John 8:24). He wanted them to believe that He is God. Further, in His discourse, He told them, "Your father Abraham rejoiced to see My day, and he saw it and was glad." Then, the Jews said to Him, "You are not yet fifty years old, and have you seen Abraham?" Jesus said to them, "Most assuredly, I say to you, before Abraham was, I AM."
Did the Jews comprehend what Jesus was affirming? The Jews understood that Jesus was affirming eternality. Because He didn't say, "Before Abraham was, I was," but He told them, "Before Abraham was, I AM." They knew He was claiming Deity. So, it says, "They took up stones to throw at Him" (John 8:56-59). For in their view, He was committing blasphemy. Jesus' use of the expression "I AM" had its origin in the Bible in God's dealings with Moses. When God had called Moses to lead the Israelites out of Egyptian bondage, Moses complained that he could not tell the people who had commissioned him to be their leader. He was afraid to go because He did not know God's name Who was sending him. "Then Moses said to God, Indeed, when I come to the children of Israel and say to them, 'The God of your fathers has sent me to you,' and they say to me, 'What is His name?' what shall I say to them?" God said to Moses, "I AM WHO I AM." God said, "Thus you shall say to the children of Israel, 'I AM has sent me to you'" (Exodus 3:13-14). When Jesus said to the Jews, "Before Abraham was I AM," He was simply and forcefully affirming His Deity. The Jews did not miss the point that Jesus was making.
On another occasion, Philip, one of Jesus' disciples, asked, "Lord, show us the Father." Jesus said to him:
Have I been with you so long, and yet you have not known Me, Philip? He who has seen Me has seen the Father; so how can you say, 'Show us the Father?' Do you not believe that I am in the Father, and the Father in Me? The words that I speak to you I do not speak on my own authority; but the Father Who dwells in Me does the works. Believe Me that I am in the Father and the Father in Me, or else believe Me for the sake of the works themselves. (John 14:8-11)
Philip wanted to see God. Jesus said, I AM, Who has been with you so long.
The apostles and other writers of the New Testament affirmed Jesus' Deity. The apostle Paul wrote:
Who being in the form of God, did not consider it robbery to be equal with God, but made Himself of no reputation [but emptied Himself, as another translation reads], taking the form of a bondservant, and coming in the likeness of men. And being found in appearance as a man, He humbled Himself and became obedient to the point of death, even the death of the cross. (Philippians 2:6-8)
The word "form" refers to the essential nature of a being. In His essential nature, Paul said, Jesus was God. In this same context, he also argued that Jesus was "equal with God." Did that equality with God apply only while He existed in Heaven with the Father, or was He equal with God when He walked among men? Some believe that Christ's equality with God ended when He became a man, since He emptied Himself or made Himself of no reputation. Did He cease to be God when He became a man? No. Jesus was Deity when He lived on earth. In emptying Himself, He did not empty Himself of His Divine attributes of being holy, just, love, merciful and truthful. Rather, He had emptied Himself of His rights and powers inherent in the Deity (John 5:19, 30). He had emptied Himself of His glory that He had with the Father before the world was (John 17:5), not of His Divine attributes. Jesus said to His disciple, "Have I been with you so long, and yet you have not known Me Philip? He who has seen Me has seen the Father…"
It was the Divinity of Jesus that the apostle Paul pointed out when he said to Titus, "Looking for the blessed hope and glorious appearing of our great God and Savior Jesus Christ, who gave Himself for us, that He might redeem us from every lawless deed and purify for Himself His own special people, zealous for good works" (Titus 2:13-14). The affirmation was made here that Jesus Christ our Savior is the great God. Likewise, the apostle Peter in his second epistle called Him "our God and Savior Jesus Christ." He further spoke of His Divine power and His Divine nature (2 Peter 1:1-4).
The great Book of Hebrews in the New Testament also confirms the truth that Jesus is Deity—God manifest in the flesh. It was through Him, it says, that God created the world. Further, He is described as being "the brightness of His glory and the express image of His person" (Hebrews 1:1-3). Just as the Father is omnipotent, omniscient, omnipresent, infinitely wise, holy, just and love, so also is the Son. For says Christ, "I and My Father are one" (John 10:30), and again He said, "he who has seen Me has seen the Father" (John 14:9). In Hebrews 1:8-12, God the Father addressed God the Son, and in these statements, it was observed that the language of this passage is such that can only be used of Deity. It came from the very mouth of Almighty God.
In Acts 20:28, Paul in speaking to the elders of the Ephesian church, said, "Therefore take heed to yourselves and to all the flock, among which the Holy Spirit has made you overseers, to shepherd the church of God which He purchased with His own blood." This is an inspired referral to the Deity of Christ, who had promised to build His church (Matthew 16:18) and whose blood was shed from the cross for many for the remission of sins (Matthew 26:28).
Another declaration of Christ's Deity is found in the statement that employed the first and the last letters of the Greek alphabet in Revelation 1:8. It says, "I am the Alpha and the Omega, the Beginning and the End, says the Lord, who is and who was and who is to come, the Almighty." This refers to His infinity. He is the beginning and the end. To put in simple language and for our understanding, He was saying that He is interminable, boundless, limitless, having neither beginning of days nor ending of life. There is no way to measure Him for He is God.
The most important reason that Jesus has to be God is that if He is not God, His death would not have been sufficient to pay the penalty for the sins of the world, as 1 John 2:2 says. A created being, which Jesus would be if He were not God, could not pay the infinite penalty required for sin against an infinite God. Only God could pay such an infinite penalty. Only God could take on the sins of the world (2 Corinthians 5:21). The Bible teaches that Christ claimed to be the Son of God. His apostles, those who were closest to Him and knew Him best, honored and worshipped Him as God. Christ's wonderful teaching, marvelous works and His sinless life on earth prove Him to be Deity (John 5:36). Even God the Father testified on several occasions that Jesus is God and Lord. No teaching in the Bible is more fortified and reinforced than the Divinity of Jesus Christ.

Click Here for a FREE monthly reminder when each new issue
of Gospel Gazette Online has been published to the Internet.
Click Here to send the URL for this page to a friend
Click Here to send your comments about this page to Gospel Gazette Online