---

It Is in God Alone
that We Dwell in Safety
Marilyn LaStrape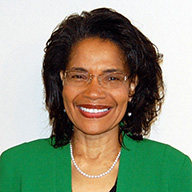 David said in Psalm 4:8, "I will both lie down in peace, and sleep; for You alone, O LORD, make me dwell in safety." When God delivered the children of Israel from Egyptian bondage, He had made every provision for their journey, not the least of which being their safety. Exodus 13:17-18 reads, "Then it came to pass, when Pharaoh had let the people go, that God did not lead them by way of the land of the Philistines, although that was near, for God said, 'Lest perhaps the people change their minds when they see war, and return to Egypt.' So God led the people around by way of the wilderness of the Red Sea. And the children of Israel went up in orderly ranks out of the land of Egypt."
Verses 21-22 read, "And the LORD went before them by day in a pillar of cloud to lead the way, and by night in a pillar of fire to give them light, so as to go by day and night. He did not take away the pillar of cloud by day or the pillar of fire by night from before the people." These symbols of God's divine presence before the people were of such significance that they did not move unless the pillars of cloud and fire moved. Exodus 40:36-38 concludes the book by saying, "Whenever the cloud was taken up from above the tabernacle, the children of Israel would go onward in all their journeys. But if the cloud was not taken up, then they did not journey till the day that it was taken up. For the cloud of the LORD was above the tabernacle by day, and fire was over it by night, in the sight of all the house of Israel, throughout all their journeys."
As Exodus reveals the Israelites being led out of bondage, Leviticus tells how they were to approach the divine and all holy God. Obedience always brought blessings. God told them in Leviticus 25:18-19, "So you shall observe My statutes and keep My judgments, and perform them; and you will dwell in the land in safety. Then the land will yield its fruit, and you will eat your fill, and dwell there in safety." In Leviticus 26:3-6 God said, "If you walk in My statutes and keep My commandments, and perform them, then I will give you rain in its season, the land shall yield its produce, and the trees of the field shall yield their fruit… I will give peace in the land, and you shall lie down, and none will make you afraid; I will rid the land of evil [wild] beasts, and the sword will not go through your land."
Moses, in the Book of Deuteronomy, appealed to Israel to know, to love and to obey God, and He would continue to be their refuge of ultimate safety. "But when you cross over the Jordan and dwell in the land which the Lord your God is giving you to inherit, and He gives you rest from all your enemies round about, so that you dwell in safety, then there will be the place where the LORD your God chooses to make His name abide" (Deuteronomy 12:10-11a).
In Deuteronomy 33, Moses blessed the children of Israel before his death. In the last four verses of the chapter, he gave the highest glory, exalted honor, distinction, renown and thanksgiving to the God of the universe.
There is no one like the God of Jeshurun [Israel], who rides the heavens to help you, and in His excellency on the clouds. The eternal God is your refuge, and underneath are the everlasting arms; He will thrust out the enemy from before you, and will say, 'Destroy!' Then Israel shall dwell in safety… Happy are you, O Israel! Who is like you, a people saved by the LORD, the shield of your help and the sword of your majesty! Your enemies shall submit to you, and you shall tread down their high places [places for pagan worship].
In Psalms, David continued the refrain about our refuge, shelter and safety being in God and Him alone. "I lay down and slept, I woke again, for the LORD sustained me" (Psalm 3:5). "Cast your burden on the LORD, and He shall sustain you; He shall never permit the righteous to be moved [shaken]" (Psalm 55:22). What does it mean to be sustained? It means to support, to hold or to bear up from below and to endure without giving way or yielding. To be sustained means to keep a person from giving way, as under trial or affliction. No person or persons can sustain us beyond the ability of God to sustain us. Psalm 91:2 reads, "I will say of the LORD, He is my refuge and my fortress; my God; in Him will I trust."
Have we ever given our attention to what Scripture reveals about our safety and how it is ours day in and day out? Awake or asleep, our safety is in the hands of the Almighty. Psalm 121:3-4 states, "He who keeps you will not slumber. Behold, He who keeps Israel shall neither slumber nor sleep." Proverbs 3:24 says, "When you lie down, you will not be afraid; yes, you will lie down and your sleep will be sweet."
Matthew 7:12 has been referred to as the Golden Rule. Jesus said, "Therefore, whatever you want men to do to you, do also to them, for this is the Law and the Prophets." God's divine law directs, guides, teaches and shows us what is right and what is wrong. It encourages us to follow the right and to refrain from the wrong. If we as society lived by the Golden Rule, safety would abound. All law enforcement personnel would be virtually jobless. However, many live by another rule that has come to be called the Iron Rule. The Iron Rule says, "What's yours is mine, and I will take it any way that I can." This mindset screams at us from every means of media that is around the world countless times 24/7. So much for dwelling in safety!
Jesus said in Luke 11:21-22, "When a strong man, fully armed, guards his own palace, his goods are in peace. But when a stronger than he comes upon him and overcomes him, he takes from him all his armor in which he trusted, and divides his spoils [plunder]." Notice what Jesus said. "He takes from him all his armor in which he trusted…" All the strong man's efforts were breached when one stronger forced his way into his house.
A local business owner made this statement. "If a thief wants to get in, he will get in." Jesus said in Matthew 6:19-20, "Do not lay up for yourselves treasures on earth, where moth and rust destroy and where thieves break in and steal, but lay up for yourselves treasures in heaven, where neither moth nor rust destroys and where thieves do not break in and steal." This is true from the humblest of dwellings to those priced in the millions of dollars. In this sin-cursed, fallen, wicked world, it is not our locks, our latches, our alarms, our guard dogs or our fences that keep us safe. "I will both lie down in peace, and sleep; for You alone, O LORD, make me dwell in safety" (Psalm 4:8).

---
Have No Fear
Tam Raynor

Everyone has enemies. Sometimes an enemy may be just one really bad person, like a Goliath. Or enemies may be a group wanting to cause or watch our utter annihilation. Some want to ruin our characters, jobs or minds. These enemies are of Satan (1 John 2:9-12), and God constantly says not to fear any human or anything in nature, regardless of how powerful and dangerous. Some of our enemies include the following.
Humans: Hateful, rotten ones. Moses' last words to God's people included, "When you go out… against your enemies, and see horses… chariots and an army larger than your own, you shall not be afraid of them, for the Lord… is with you" (Deuteronomy 20:1).
Satan: The Adversary, a roaring lion (1 Peter 5:8). Satan is powerful, but God says that his fate is sealed already (Revelation 12:9). So, what is there to fear?
Sin: We must attack sin with all our strength, not fearing to conquer what keeps us from being special in God's eyes.
Death, Pain and Shame: Jesus destroyed the power of shame and pain by dying on the cross, as well as the power of death by His resurrection. God said, "…do not fear those who kill the body but cannot kill the soul. Rather fear him who can destroy both soul and body in hell" (Matthew 10:28).
God taught the Israelites how to fight (Deuteronomy 20:1). Today, He expects us to fight against our enemies, using His armor (Ephesians 6:10-18). God says we are to unite and work "side by side for the faith of the gospel… not frightened in anything by [our] opponents" (Philippians 1:27-28). Let's "confidently say, 'The Lord is my helper; I will not fear; what can man do to me?'" (Deuteronomy 31:8; Hebrews 13:6).

Click Here for a FREE monthly reminder when each new issue
of Gospel Gazette Online has been published to the Internet.
Click Here to send the URL for this page to a friend
Click Here to send your comments about this page to Gospel Gazette Online