---
A New Year in Christ
Robert Johnson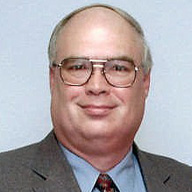 The beginning of a new year brings about change. It may not seem like it to some, but it does. In a new year, we will continue to grow older, with all the changes that can bring to our lives. In a new year, there will be new blessings to enjoy. In a new year, there will be new challenges to face. In a new year, there can be a renewal of relationships, and there can also be a cessation of relationships. Life is never static, and change is one of the key experiences we face.
How do we deal with change? To be oblivious to it can court disaster. For example, changes in how one feels physically can be signs that something needs to be addressed with one's health, and to ignore them can bring about unwanted issues with which to deal. The same can also be said spiritually. In a new year, we should be striving to grow into a deeper, a more committed and a more serving relationship with God in Christ. Do we take time to evaluate where we are spiritually, and where we want to be? Paul did. He told the Philippians, "I have not already attained, and I have not yet been made complete, but I press on, if I might lay hold of that for which Christ Jesus took hold of me. Brothers, I have not yet laid hold, but I am doing one thing: forgetting the things behind, and stretching forward to the things ahead, I press toward the goal, toward the prize of the high calling of God in Christ Jesus" (Philippians 3:12-14).
The writer of Hebrews also reminds us how to deal with what we face through the todays of our lives, whether good or bad. "Let us keep our eyes fixed on Jesus, the originator and finisher of the faith. Because of the joy set before him, he endured the cross, disregarding the shame, and he sat down at the right side of God's throne. Consider carefully the One who endured such hatred by sinners, lest you lose heart and give up" (Hebrews 12:2-3).
We should always match whatever changes are happening to us in the here and the now with an ever-growing relationship with the Father and Son, because not to do so guarantees we will be regressing spiritually, not moving forward. We should always remember the things of today are temporal and should never rule our feelings, our priorities or our motives in living. Life spiritually in Christ, and the promise of eternal life, should always govern life in the here and the now. "For to me, to live is Christ and to die is gain" (Philippians 1:21). The life we live in the flesh should be lived by faith in the Son of God (Galatians 2:20). Christ should be what life is all about (Colossians 3:4). Is He our priority for living? Is He the focus for how we will approach whatever changes happen to us this year? Is He such an integral aspect of our lives that, in Him, no change in life can dull our hope for tomorrow?
God equips us with what we need to address both the good and bad in a new year. We have the avenue of prayer, the opportunity to hear Him speak to us through His Word, the path of fellowship with Him and fellow Christians, the encouragement of worship, and the renewal of service. Will we just let life happen, or will we seek His way for life, allowing Him to mold and shape us closer to His image? No matter what happens in life, God is more than adequate to equip us to handle any change, as He works to perfect His changes in us. Will you take advantage of all the possibilities God wants to provide for you? "Therefore, we take courage. Though our outer person is wearing out, our inner person is renewed every day. Our momentary light suffering continues to work for us an eternal weight of glory far beyond all comparison. We continue to look, not at things visible, but the invisible. Visible things are temporary, but the invisible are eternal" (2 Corinthians 4:16-18). Have a blessed new year, no matter what, in God and our Lord and Savior Jesus Christ. "Rejoice in the Lord always; again I will say, rejoice."

---
Resolutions
George Jensen
It's that time of year. Folks everywhere have been enjoying the holidays – maybe too much. That extra slice of pie, just one more piece of fudge or that extra serving of potatoes and gravy – all seem to stay with us in a way we wish they would not. Others, in spite of the colder weather, can be found huddled just outside the front or back doors, taking their nicotine break. Many had such a surge of holiday zeal that they got everyone a special gift, and now their credit card carries a small mountain of debt. Many habitually throw their money away on the lottery or some other form of gambling.
As thoughts turn to ringing in the New Year, some realities cross our mind. We realize the need to "turn over a new leaf."
The extra pounds we now carry deserve to be burned. The tobacco habit being funded needs to be kicked for the health of our bodies and our wallets. The second-hand destruction to children also needs to stop. While we gripe that the government spends more than it takes in, our personal habit has been the same.
What resolutions will we make, and how long will they last? Why is it that some folks seem to have strong determination while others never seem to stick with anything? You probably know someone who quit the fumigation habit "cold turkey" while others have "quit" dozens of times. Many speak of their need to shed some pounds but never follow through. They just keep buying larger and larger clothing. Often the "pot calls the kettle black." Someone overweight points in disgust to another who will not quit smoking. The over-spender looks down upon the drunkard.
On the website USA.gov, a listing of perennial New Year's resolutions include: drinking less alcohol, weight loss, debt management and to quit smoking. One survey of 15,000 respondents found that 77% of New Year's Eve resolutions failed. According to the Franklin-Covey survey, the number one resolution often is to become physically fit.
All the categories mentioned so far deserve attention. However, a different resolution ought to top the list – the wellbeing of our souls. Listen to the words of the prophet: "The harvest is past, the summer is ended, and we are not saved" (Jeremiah 8:20). Nothing is more important. You may have the good intention to read your Bible or to attend church services more regularly. It has been said that the way to hell is paved with good intentions. Read Matthew 7:13, 14, 24-28. Are you absolutely certain you have learned the truth and are obeying the truth? "Try your own selves, whether ye are in the faith; prove your own selves" (2 Corinthians 13:5). Why not resolve to visit the church of Christ, and speak to us about your salvation?

Click Here for a FREE monthly reminder when each new issue
of Gospel Gazette Online has been published to the Internet.
Click Here to send the URL for this page to a friend
Click Here to send your comments about this page to Gospel Gazette Online