---
Are There Many Ways to Heaven?
J.C. Choate (deceased)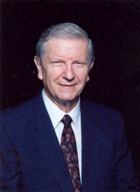 In the religious world, including both those who profess faith in Christ and those of other religions, most believe that there are many ways to heaven. They explain that even though different roads may be taken, all are headed for the same destination. That sounds good, but it is not what the Bible teaches. Jesus said, "I am the way, the truth, and the life; no man cometh unto the Father but by me" (John 14:6). Jesus was saying emphatically that there is but way to heaven, and that He is that way.
Who said there are many ways to heaven? Jesus did not make such a statement, and neither do those who know what the Bible teaches on this subject. Those who say that there are many ways to heaven are those who believe in many doctrines not found in the Scriptures, and those who believe in "gods" of religions other than Christianity.
On one occasion Jesus said, "Verily, verily, I say unto you, He that enters not by the door into the sheepfold, but climbs up some other way, the same is a thief and a robber" (John 10:1). Now I did not say that, but Christ said it. He is the way to heaven, and He is the one who says that when a man tries to enter by another way he is a thief and robber. Why? Because that person is trying to follow a way that Christ has not authorized.
It is true that, in this world, it may be possible to travel several roads to reach a particular destination, and most people apply that same idea to spiritual matters. However, thinking about the many roads that may lead to a particular city, suppose you are officially authorized to take only one of these routes. In that case, you would have to take that one way in order to keep your boss pleased with you. If you took another way, not only would you be going against the wishes of your boss, but you would also lose your reward at the end of the way. So it is in the spiritual realm. Christ is the only way.
No other religion offers a Savior; no other religion offers forgiveness of sins. Christ is the one way because He came into this world to live among men and to die on the cross, to be buried and then to be resurrected, to pay the price for our sins, to reconcile to God all who believe and obey Him, so that they may be saved. If He paid that kind of price, then He has every right to say what He expects of a person if He is going to save him and take him to heaven. In this case, there are not many ways; there is no other way.
According to the Scriptures, what is the one way the Lord has made to bring about our salvation? First, He states clearly, "…if you do not believe that I am He, you will die in your sins" (John 8:24). What else is required if one is to be saved? "…unless you repent [turn away from a sinful life] you will all likewise perish" (Luke 13:3). Is more required of those who want to be saved? "…whoever confesses Me before men, him I will also confess before My Father who is in heaven" (Matthew 10:32). It was in the death of Christ that His blood was shed to pay the atoning price for our sins. How do we reach that blood so that we may be forgiven? "…do you not know that as many of us as were baptized into Christ Jesus were baptized into His death? Therefore we were buried with Him through baptism into death, that just as Christ was raised from the dead by the glory of the Father, even so we also should walk in newness of life" (Romans 6:3,4). Acts 2:47 says, concerning those who were baptized that "the Lord added to the church daily those who were being saved."
Ephesians 4:4-5 says there is one God, one Lord, one Spirit, one faith, one baptism, one body or church and one hope. There is also one way to worship, and one way to live, that is, being faithful unto death (John 4:24; Revelation 2:10). There will be but one judgment, one heaven and one hell for all eternity (Hebrews 9:27; Matthew 25:46). With these facts being true, why would there be more than one way to heaven? How can there possibly be more than one way to heaven?
Christ says that the majority will be on the broad way that leads to destruction but only a few will be on the narrow way that leads to life (Matthew 7:13-14). Which way are you going? We urge you to let Christ be your way, the only way that leads from this world to a home in heaven with the Lord forevermore.

Click Here for a FREE monthly reminder when each new issue
of Gospel Gazette Online has been published to the Internet.
Click Here to send the URL for this page to a friend
Click Here to send your comments about this page to Gospel Gazette Online