| | |
| --- | --- |
| Vol. 6, No. 1 | January 2004 |
| | |
| --- | --- |
| Guest Editorial | ~ Page 3 ~ |
Thou Art But a Youth
By T. Pierce Brown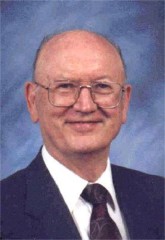 In 1 Samuel 17, there is one of the most thrilling stories of the Bible, known and loved by both adults and children. The story of David and Goliath has many lessons in it. One that struck me with the most force as I read it again was the statement made by King Saul in verse 33, "And Saul said to David, Thou art not able to go against this Philistine to fight with him; for thou art but a youth, and he a man of war from his youth." It is a tragedy beyond expression that men through the centuries have thought and spoken about our young people in those terms, and because of this the church has been cheated and damaged, for many of our young people have had their talents buried or wasted.
Even our programs for young people have often been designed with this hidden assumption, "These are but youths." That meant, in practice, that they can do very little that is worthwhile. We have to keep them satisfied with hot dogs, hay rides and entertainment. They are not really mature enough to face the challenge of giants that confront, confound and confuse us. They are "the church of the future" and we must not allow them to be very much involved in anything mature or significant in the present. The idea of "a junior church," with its play-acting and pretense, probably was designed to counter these wrong attitudes. It does not counter them, but simply magnifies them, for it assumes that young people can't function properly with adults in worship and service. Though no doubt it was dreamed up by some visionary who thought that was the way to get young people prepared for the future, it does not even properly prepare them for the present. It is demeaning and self-defeating, even if it were not unscriptural in its approach and activity.
A study of the activities and exploits of young people in the Bible would be good, for both adults and children. In 2 Chronicles 34:1 we find, "Josiah was eight years old when he began to reign." In verse 3, we read, "For in the eighth year of his reign, while he was yet young, he began to seek after the God of David his father; and in the twelfth year he began to purge Judah and Jerusalem from the high places, and the Asherim, and the graven images, and the molten images." Solomon was still a young man when he began to reign. Joseph and Daniel were young men when they showed the courage for which they are famous. Paul said in 1 Timothy 4:12, "Let no man despise thy youth; but be thou an ensample to them that believe, in word, in manner of life, in love, in faith, in purity."
David became such a great old man because he started to be a great young man. He did not think he had to start his youth by sowing wild oats. He knew they lacked food value. Let us notice some things that made David a great young man.
First, he believed in something and in someone. Beliefs are very important. One cannot achieve what one cannot believe. When I was young, I would say about something, "That is as impossible as walking on the moon." You know what one result was? I never did it! It may not be absolutely true that whatever you can vividly visualize, strongly believe and ardently desire, you can do. It is true that Jesus said in Mark 9:23, "All things are possible to him that believeth." David believed in himself because he believed in the power of God and the providence of God.
Second, he was a youth who recognized and accepted a challenge. What most of those around him considered an obstacle, he recognized as an opportunity. He is the kind of boy that turned stumbling blocks into stepping-stones. There are so many examples in and out of the Bible of young people who have not had enough experience to know a thing cannot be done, so they do it. He did not accept the challenge, as his arrogant brother apparently assumed, because of pride, desire for fame or need for attention. There was simply a job to be done and he knew that one man and God make a majority. As Paul put it much later in Romans 8:31, "What then shall we say to these things? If God is for us, who is against us?"
In the third place, he was a youth who wanted right to triumph. The key to his reasoning was in verse 36, "Thy servant smote both the lion and the bear: and this uncircumcised Philistine shall be as one of them, seeing he hath defied the armies of the living God." We have many older people who would be glad for right to triumph, but they would rather someone else would do the job. Many of our young people would be eager to engage actively in helping right to triumph if we would let them.
David was willing to risk his life for the thing in which he believed. First Samuel 19:5 says, "For he put his life in his hand, and smote the Philistines, and Jehovah wrought a great victory for all Israel." David had probably never heard anyone say that faith without works is dead, but he knew it. We need (and have) young people who are willing to give their lives for the cause of Christ. They know that a thing that is worth living for is worth dying for.
Next, he was a youth who refused to be discouraged. His first discouragement could have been the giant. Not only his size and demeanor, but also his ridicule would have discouraged most of us. If we had been there, we might have said, "If I had been trained for this; if I had enjoyed the opportunities of my brothers; if I had been experienced in this sort of warfare, then I would do great things." For most of us, "IF" is right in the middle of "LIFE," so we excuse ourselves from doing, with the thought that we would if things were different. Both the size of the task and the ridicule we might suffer as we attempt to do it deter many.
His second discouragement could have been the unjust criticism of his brothers. How many of us have failed to succeed because we listened to unjust criticism and lost heart! Even his leader and king thought it unwise, and was critical to that extent. When your leaders do not have any confidence in you, it is easy to be discouraged. This young man did not let it discourage him.
Next, here was a youth that trusted neither in the flesh nor in carnal things. He was not trusting in his skill, the power of his sling or the smoothness of the stones. His trust was in God. It was not a matter of "If I am lucky, I will make it." Or "Some accident may happen that will allow me to succeed." Young people, especially, need to think of 2 Corinthians 10:3-4, "For though we walk in the flesh, we do not war according to the flesh (for the weapons of our warfare are not of the flesh, but mighty before God to the casting down of strongholds), casting down imaginations, and every high thing that is exalted against the knowledge of God, and bringing every thought into captivity to the obedience of Christ." You have mightier weapons than David did, and the same God to help you.
There are several other characteristics we need to emphasize, but time and space forbid. Another is so important we will include it. He was humble. Even after such a great success and honor, it did not turn his head. If success and glory turn your head, you are looking in the wrong direction. He was offered the king's daughter, but said, "Who am I that I should be son-in-law to the king?"
He was "but a youth," but what a youth! There is no characteristic named that every young person in the church could not have. No doubt, there are thousands who have those qualities. If their parents, elders, preachers, youth directors and all who can do so would allow them to be used properly for the glory of God and the good of mankind, many giants that are wreaking havoc in the church today could be eliminated.