---
The Thief on the Cross
J.C. Choate (deceased)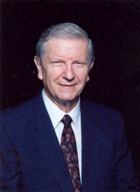 The Scriptures clearly and repeatedly teach that one must be baptized to be saved. Christ Himself said that one must believe and be baptized to be saved (Mark 16:16). Peter said that it is necessary to repent and be baptized to have remission of sins (Acts 2:38). In 1 Peter 3:21, Peter wrote by inspiration that baptism saves, just as Noah and his family were saved by water. We are also told in God's Word that baptism puts one into Christ (Galatians 3:26-27) and into the church (1 Corinthians 12:13). The new birth also involves baptism since one is born of water and of the Spirit (John 3:5). In the light of all of these Scriptures, how could anyone say that a person can be saved without baptism? Yet, there are many who do just that!
Much of the denominational world teaches that the thief on the cross was saved without baptism. The record says:
And one of the malefactors which were hanged railed on him, saying, If thou be Christ, save thyself and us. But the other answering rebuked him, saying, Dost not thou fear God, seeing thou art in the same condemnation? And we indeed justly; for we receive the due reward of our deeds: but this man hath done nothing amiss. And he said unto Jesus, Lord, remember me when thou comest into thy kingdom. And Jesus said unto him, Verily I say unto thee, Today shalt thou be with me in paradise. (Luke 23:39-43)
Although nothing is said about the thief having been baptized, he most likely had been. Why do I think so? We are told by Mark that "John did baptize in the wilderness, and preach the baptism of repentance for the remission of sins. And there went out unto him all the land of Judea, and they of Jerusalem, and were all baptized of him in the river of Jordan, confessing their sins" (Mark 1:4-5).
One could therefore well conclude that the thief was baptized, and then later he became involved in the thievery that led to his crucifixion. This would not be the first or the last time that a person fell back into sin after repenting.
Consider further: This thief obviously knew quite a lot about Jesus, and had a great deal of faith! You ask how we can know these things. By his own words! There they were, the three of them, suffering the death of crucifixion. The disciples who had studied at Jesus' feet for three years had abandoned Him in fear, their faith in Him badly shaken. However, what does the thief say? "LORD!" and he has enough understanding about the spiritual nature of Jesus' kingdom that he begs, "Remember me when you come into your kingdom!" How did the thief know that Jesus' death would not be His end, or that it would not prevent Him from becoming the King over His kingdom? Yes, the thief understood a great deal about our Lord. He was no stranger to His teachings, and most likely he had been baptized.
Yet, suppose he was not baptized. That does not prove anything. It certainly does not prove that one can be saved today without baptism. That thief lived in another period of time and under a different law than we live under today. At that time Christ was still alive, and He certainly had the right to forgive the man and to promise to save him in the coming kingdom. However, with Jesus' death on the cross, a new law was ushered in, the law of Christ, as revealed in the New Testament. We have been living under that law since the death, burial and resurrection of Christ. We cannot go back to the law that was in force before the death of Christ, obey that law and expect to be saved. We cannot change laws to suit ourselves.
The fact is, there is something wrong when we go to the Scripture and try to offset one command by claiming to follow another. There is no such thing as the Lord telling us that we must obey certain commands to be saved, and then for us to look for a Scripture or an example of someone being saved without doing what the Lord has commanded, and for our "findings" to cancel the necessity of obeying Christ.
It was stated in the first part of this article that the Bible clearly teaches that one must be baptized to be saved. At the same time, it should be pointed out that nowhere does God's Word say that "baptism only" saves. Neither does the Scripture teach that one can be saved by "faith only," "repentance only," or by "confessing Christ only." Rather, the Word of God tells us in command, as well as by the examples of conversion in the Book of Acts, that one must hear and believe the Gospel of Christ, repent of one's sins, confess that Christ is the Son of God and be baptized for the remission of sins. Read Romans 10:17, Hebrews 11:6, Acts 17:30, Romans 10:10 and Mark 16:16.
No, we are not talking about "water salvation," but we are talking about the salvation that the Lord offers when we comply with the terms or conditions that He has laid down in order for us to be saved. Christ is the Savior, and He has every right to tell us what we must do if He is going to save us. We are not in position to tell Him what we will do or not do to be saved. It does not matter who says we can be saved without being baptized, or how many may teach that one can be saved without being baptized, the fact is, the Lord says that we must believe and be baptized to be saved. He is the authority, and that settles it, once and for all! When we believe Him with all of our heart, we are going to do whatever He has asked us to do, and that without question or debate.
Another important lesson in baptism is that when we die to our sins, and we are buried in the waters of baptism, to be resurrected from a watery grave to a new life in Christ, we are picturing the death, burial and resurrection of Jesus (Romans 6). Do not be a thief and steal from the lost a command for salvation that the Lord Himself has given.

Click Here for a FREE monthly reminder when each new issue
of Gospel Gazette Online has been published to the Internet.
Click Here to send the URL for this page to a friend
Click Here to send your comments about this page to Gospel Gazette Online