| | |
| --- | --- |
| Vol. 6, No. 10 | October 2004 |
What Do You Mean, "God
Can't Do Absolutely Everything?"
By Van Sprague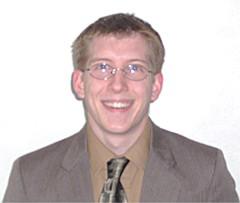 Atheists have tried for years to prove that God does not exist. This is impossible, however, because God does exist, and the nature of the atheist's position is self-defeating. An atheist makes the claim, "I know God does not exist." This is what is called a universal negative. That means, that in order to know what they claim, they must have all of the evidence. Imagine the following illustration: There are two men in the woods. One man says to the other, "I know that there is not even one deer in these woods, nor has there ever been." The other man says, "I know that there is, at least, one deer that exists, or has existed in these woods." The first man would have to know or do a couple of things that would be impossible for him to know or do. 1) He would have to be able to see the whole area that he was considering. 2) He would have to know that there had never been a deer in that area. The man that said that he knew there was at least one deer that exists, or had existed, in the same wooded area, would have much less to prove. He would simply have to provide one deer track, some deer hide, rub marks from a buck, deer bones or even some droppings. If this man provided any one of these, he could uphold his side of the case. The first man is holding a position similar to the atheists.
Atheists know that they cannot be all over the earth at all times and know all things in order to deduce that God does not exist. In fact, if an atheist could do that, he would be God, and he would prove himself wrong! Since it is impossible for atheists to prove their case using this method, they have moved on to another. The atheist has said, that, due to the conditions of this world, stating that an infinitely powerful and good God exists is a contradiction. Atheists argue that if evil exists, either God is not powerful enough to get rid of it, or he could but he is not truly good enough to want to get rid of it. From this, they conclude that, since evil undeniably exists, God does not exist.
This is what is considered atheists' most powerful argument. Again, however, it is a false one. This argument assumes that God, being all-powerful, can do absolutely anything. One might respond, "But that's what everyone has said my whole life." It is true that God is infinitely powerful, and he can do anything that is possible to do! Ask yourself this question. Can God lie? No, it is not in his power to lie because he is all good. It would be a contradiction to say that God can be all good and do something evil. God cannot do what is absurd. For example, God cannot make a four-sided triangle. This would mean that the object would have four sides and three sides at the same time. It is true that God can do anything that his power can enable him to do, but he can only act in accordance to his will, and he cannot perform an absurdity.
What does God not being able to make a square triangle have to do with anything? Atheists say that if God is all good and all-powerful, he should be able to make a world in which no evil exists. Just like the square triangle, this is a contradiction. Man is a free moral agent. That means that man can do whatever he chooses to do that he is able to do. If man was not a free moral agent, then he could not choose to serve God; he would simply be a robot programmed to serve God. In order to have love and devotion, one must have the power of choice. Because of this, God created man with free will to choose to serve him, or not to serve him. Saying that God could have made man with free will and without the option to sin, is like saying that God could make something with four sides and three sides at the same time. It is impossible. If God did not give man the capacity to sin, then man would no longer have free will.
Because we have free will, we can choose to do what is good to be in fellowship with God. Because of free will, we can choose to overcome adversities and rely more on God. Atheists have still not proven that God does not exist because it is impossible to prove that proposition. There is a God. He is alive. Use the free will he gave you to grow ever closer to him.

Works Consulted
Warren, Thomas B. Have Atheists Proved There Is No God? Moore: NCP, 1994.
Warren, Thomas B. and Antony G.N. Flew. The Warren-Flew Debate on the Existence of God. Moore: NCP, 1995.
Warren, Thomas B. and Wallace I. Matson. The Warren-Matson Debate on the Existence of God. Moore: NCP, 1978.