Jesus, His Mission and
the Father-Son Relationship
By Hugo McCord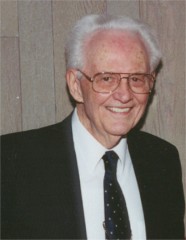 He who knows "the end from the beginning" (Isaiah 46:10) knew that man, created as free to make his own choices, would sin. "God is love" (1 John 4:8), but true love could not ignore that which is the opposite of the One who is "righteous in all his ways, and holy in all his works" (Psalm 145:17). Sin-offerings of animals, even burnt sacrifices, would not remove man's guilt. What could be done?
One envisions a heavenly conference back in eternity producing the "plan of the ages" (prothesin ton aionon, Ephesians 3:11) in which not an animal but a human sacrifice was suggested, and God asked: "Whom shall I send, and who will go for us?" (cf. Isaiah 6:8). The One afterward called "Jesus" volunteered, saying, "Look! I come" (Psalm 40:7). God made it clear that Jesus did not have to go to the earth and become a human sacrifice, and Jesus responded: "I delight to do your will, O my God, and your law is within my heart" (Psalm 40:8). That statement so pleased the Father that Jesus could afterward say:
The Father loves me, because I lay down my life to take it again. No one takes it from me. I myself lay it down. I have authority both to lay it down and to take it again. This commandment I received from my Father (John 10:17-18).
The words "God sent forth his Son" (Galatians 4:4), referring to Jesus, do not mean a son by God's semen, for Jesus had always existed (Micah 5:2). The One called "Son," like the Father, had no beginning, for he himself "was God" who "became flesh" (John 1:1, 14).
We cannot understand that there is only "one" God (Deuteronomy 6:4), and "none else beside him" (Deuteronomy 4:35, 39; Isaiah 44:6), and yet the Son is "from everlasting" (Micah 5:2), and "the same yesterday and today and forever" (Hebrews 13:8), and the Holy Spirit is "eternal" (Hebrews 9:14). However, biblically the fact that one is three and three are one is undeniable.
Mary had "not been with a man" and the Holy Spirit caused her to become the mother of Jesus (Luke 1:34-35). Jesus often referred to God as "Father" (as John 10:15) and he was "called the Son of God" (Luke 1:35), though literally not true. Figuratively the Father-Son terminology perhaps was used to show their love for each other: "The Father loves me" and "I love the Father" (John 10:17; 14:31). Similarly, all human beings, both men and women, who become Christians, figuratively are called "sons" of God, "crying, Abba, Father" (Galatians 4:6), and figuratively Jesus is their elder-brother, "the firstborn among many brothers" (Romans 8:29). Jesus announced he had not come to "destroy the law," even "the smallest part of a letter" before "all things are fulfilled" (Matthew 5:17-18). He obeyed its every requirement until in his death he nailed "it to the cross" (Colossians 2:14).