| | |
| --- | --- |
| Vol. 5, No. 9 | September 2003 |
Faith That Meets the Challenges
By Marilyn LaStrape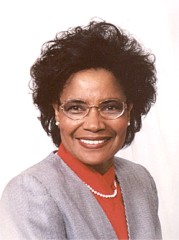 According to I Peter 1:5, we "are kept by the power of God through faith." The strength we need to stay in the church comes from God, not from us. When we persevere in obedient faith, God keeps us by his power! We are commanded to "be strong in the Lord and in the power of his might" (Ephesians 6:10b NKJV). Our faith is sustained as we continue to experience his care, guidance, provision and protection. Our obedient faith allows God to fulfill his purpose for creating us as we are called according to that divine purpose.
Our faith is the firm conviction that produces total surrender to God. Scripture is replete with examples of steadfast faith in God as he worked in the lives of his servants. Our entire Christian life is a walk of faith. "For we walk by faith, not by sight" (2 Corinthians 5:7). "But without faith it is impossible to please Him, for he who comes to God must believe that He is, and that He is a rewarder of those who diligently seek Him" (Hebrews 11:6). Notice that the verse does not say it is difficult, it says it is impossible to please God without faith.
Faith is our loving response of obedience and trust; it is the indispensable requirement in order to please God. Below are just four of the numerous accounts of faith recorded in Scripture. These servants of God had their lives changed as a result of their obedient faith as they faced the challenges of life.
One of the accounts is the striking faith of Abraham from the time he was given God's first command. Abraham began to demonstrate his faith in God when he left his country at God's command to go to a land that he would show him. "By faith Abraham obeyed when he was called to go out to the place which he would afterward receive as an inheritance. And he went out, not knowing where he was going" (Hebrews 11:8).
Abraham and Sarah's faith in God is rewarded at the birth of Isaac. God had asked them, "Is anything too hard for the Lord? At the appointed time I will return to you, according to the time of life, and Sarah shall have a son" (Genesis 18:14). Paul references God's conversation with Abraham in Romans 4:20, "He did not waver at the promise of God through unbelief, but was strengthened in faith, giving glory to God." Abraham had laughed in his heart, but he believed God would do exactly as he had promised.
A second faith building account is God's deliverance of the Israelites from Egyptian bondage. God's power was demonstrated in the ten plagues that defy human explanation or full comprehension. At the Red Sea crossing, Moses said to the people, "Do not be afraid. Stand still, and see the salvation of the Lord, which He will accomplish for you today. For the Egyptians whom you see today, you shall see again no more forever" (Exodus 14:13). When Moses stretched out his hand over the sea, God caused the sea to go back by a strong east wind all that night, made the sea into dry land, and the waters were divided. The children of Israel crossed on dry ground, and the waters were a wall to them on their right and their left!
A third faith builder is found In 2 Kings Chapter 3. Three neighboring kings (of Israel, Judah and Edom) go out to fight against the king of Moab, but they had not made proper provisions for this battle. After a seven-day journey with no water for the army or animals, they began to blame God! Are we sometimes guilty of falling into this "blame trap" of Satan's?
King Jehoshaphat, king of Judah, had the faith to ask if there was a prophet of the Lord among them, and they inquired of the prophet Elisha. For Jehoshaphat's sake, Elisha told them to make the valley full of ditches and the valley would be filled with water. Elisha tells them, "And this is but a trivial thing in the sight of the Lord; He will also deliver the Moabites into your hand" (2 Kings 3:18). When we persevere in obedient faith, our problems are trivial no matter how monumental they may seem to us.
A fourth account that meets a challenge is again demonstrated in the faith of King Jehoshaphat. The people told him that the people of Moab, Ammon and Mount Seir were coming to battle against Judah. King Jehoshaphat was afraid and he sought the Lord and proclaimed a fast throughout all Judah.
During this crisis, Jehoshaphat reminds us of who God is and who is in control. He says, "Oh Lord God of our fathers, are You not God in heaven and do You not rule over all the kingdoms of the nations, and in Your hand is there not power and might, so that no one is able to withstand You" (2 Chronicles 20:6)?
King Jehoshaphat's faith is unwavering when he says, "O our God, will You not judge them? For we have no power against this great multitude that is coming against us; nor do we know what to do, but our eyes are upon You" (2 Chronicles 20:12). Jehoshaphat is moved from worry to worship when God sends word to him that there was no need to fight; to stand still and see the salvation of the Lord. When the people took the best of the land, it took them three days to gather it! King Jehoshaphat led his people in obedient faith to meet the challenge that was before them, and God rewarded them for that diligent seeking.
The greatest manifestation of God's awesome power and faithfulness was exemplified when God raised Christ from the dead. Peter made this fact abundantly clear in the sermon that he preached on the Day of Pentecost: "Him, being delivered by the determined counsel and foreknowledge of God, you have taken by lawless hands, have crucified, and put to death; whom God raised up, having loosed the pains of death, because it was not possible that He should be held by it" (Acts 2:23-24). Our enduring faith in God is rooted in that divine truth and remains unshakable because Christ was raised from the dead never to die again!
As our faith in the power of God continues to grow and mature, we can say with Jeremiah, "Ah, Lord God! Behold, You have made the heavens and the earth by Your great power and outstretched arm. There is nothing too hard for You" (Jeremiah 32:17).