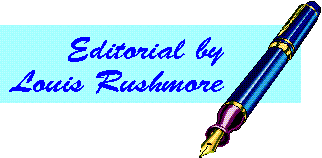 The Providence Of God
Like God himself (Genesis 1:1), providence is not precisely defined in the Bible. Neither does the word providence appear in the Bible with reference to God. However, Godís providence is amply taught throughout the Bible.
There are two types of providence. There is general providence, under which all of humanity shares physical blessings irrespective of individual relationships with God. ". . . your Father which is in heaven: for he maketh his sun to rise on the evil and on the good, and sendeth rain on the just and on the unjust" (Matthew 5:45).
There is also special providence, under which faithful children of God are the direct recipients of physical or spiritual blessings.
"And Joseph said unto his brethren, Come near to me, I pray you. And they came near. And he said, I am Joseph your brother, whom ye sold into Egypt. Now therefore be not grieved, nor angry with yourselves, that ye sold me hither: for God did send me before you to preserve life. For these two years hath the famine been in the land: and yet there are five years, in the which there shall neither be earing nor harvest. And God sent me before you to preserve you a posterity in the earth, and to save your lives by a great deliverance. So now it was not you that sent me hither, but God: and he hath made me a father to Pharaoh, and lord of all his house, and a ruler throughout all the land of Egypt" (Gen. 45:4-8).
In the strictest sense, Godís providence does not employ miracles today. During miraculous times God sometimes used miracles to aid his providence. Miracles, though, have ended, as every mature, faithful child of God will attest (1 Corinthians 13:8-13; Ephesians 4:11-14). Yet, God does use divine power (i.e., power that you and I do not have) to affect natural law to execute his providence.

What, then, is the difference between miracles which have ceased and divine power which God uses to make providence work? Miracles, among other things, were always visible demonstrations of supernatural power. Divine power that God uses in his providence is not discernible to human beings (i.e., though the result of Godís providence may be visible, how God causes it to occur cannot be known). Therefore, Godís providence appears mysterious to us. God simply does not tell us some things about his providence (and other matters, Deuteronomy 29:29). "O the depth of the riches both of the wisdom and knowledge of God! how unsearchable are his judgments, and his ways past finding out!" (Romans 11:33).

The purpose of Godís providence is the ultimate redemption of humanity. Therefore, suffering (e.g., Joseph, Job; Acts 8:1-4) or even death (e.g., "The blood of martyrs is the seed of the kingdom"; the death of Christ; Revelation 2:10) rather than earthly happiness may better serve the purpose of the providence of God.

How does Godís providence affect humanity? (1) The created world is sustained by divine, providential power--the same power by which it was created (Colossians 1:16-17; Hebrews 1:1-3; John 1:1-3). (2) Prayers are effective through providence. "Elias was a man subject to like passions as we are, and he prayed earnestly that it might not rain: and it rained not on the earth by the space of three years and six months. And he prayed again, and the heaven gave rain, and the earth brought forth her fruit" (James 5:17-18). (3) Christians are to be worry-free because of providence (Matthew 6:24-34). (4) God, through his providence, appoints rulers (e.g., Nebuchadnezzar, Daniel 4:17-34), raises up or pulls down nations (e.g., Jeremiah 18:7-10), arranges circumstantial events of people and Christians (i.e., brings parties together who will predictably or through foreknowledge react a certain way, e.g., Pharaohís hardened heart). God, though, does not interfere with free moral agency.

How does humanity affect the providence of God? (1) God works through people who voluntarily conform to the purpose or will of God (e.g., taking the Gospel to the world, Mark 16:15-16). (2) God will use other persons to achieve his will if one through his own free moral agency does not do the will of God (e.g., Esther 4:15).

Providence as it pertains to Christians is circumstantial. Only faithful children of God directly benefit from the goal of Godís providence (Romans 8:28); the Egyptians became the indirect beneficiaries of the unfolding of Godís providence to save Josephís family. Otherwise, though the ungodly may appear to prosper in this life, they will not persevere in eternity (e.g., Luke 16:19-31; however, not all rich people in this life are evil--Job, Abraham).

God uses imperfect humanity to further his providence. He uses imperfect people who are generally righteous (e.g., Noah, Abraham, Isaac, Jacob, Moses, Peter, you and me). Additionally, God uses people to accomplish his providential goals who may be generally unrighteous (e.g., rulers, nations, etc.).

A key element of providence is that through it God provides. The truth-seeker will find the truth (John 7:17). Providence provides for the fulfillment of Godís ultimate goal for humanity (Philippians 1:12). "But I would ye should understand, brethren, that the things which happened unto me have fallen out rather unto the furtherance of the gospel."

God, through providence, is attentive to the needs of his people. God does not slumber (Psalm 121:3). God sees and knows.
"And fear not them which kill the body, but are not able to kill the soul: but rather fear him which is able to destroy both soul and body in hell. Are not two sparrows sold for a farthing? and one of them shall not fall on the ground without your Father. But the very hairs of your head are all numbered. Fear ye not therefore, ye are of more value than many sparrows" (Matthew 10:28-31).
God hears the prayers of his faithful children; "For the eyes of the Lord are over the righteous, and his ears are open unto their prayers: but the face of the Lord is against them that do evil" (1 Peter 3:12). God will never leave us (Hebrews 13:5-6). God is our defender; "What shall we then say to these things? If God be for us, who can be against us" (Romans 8:31).

The first verse about Godís providence to which we usually turn is Romans 8:28. "And we know that all things work together for good to them that love God, to them who are the called according to his purpose." The "good" here corresponds to Godís ultimate purpose for humanity. Summarized, the phrase "all things work" equals the law of operation; "all things work together" equals the law of cooperation. The phrase "all things work together for good" signifies the law of compensation; "all things work together for good to them that love the Lord" is the law of limitation.

The Bible clearly teaches the certainty of Godís providence. However, there is some uncertainty exactly how it works. We can assuredly say, though, that Godís providence works through elders, deacons, preachers, teachers, parents, Christians and the local church (1 Corinthians 3:5-10).
"Who then is Paul, and who is Apollos, but ministers by whom ye believed, even as the Lord gave to every man? I have planted, Apollos watered; but God gave the increase. So then neither is he that planteth any thing, neither he that watereth; but God that giveth the increase. Now he that planteth and he that watereth are one: and every man shall receive his own reward according to his own labour. For we are labourers together with God: ye are God's husbandry, ye are Godís building. According to the grace of God which is given unto me, as a wise masterbuilder, I have laid the foundation, and another buildeth thereon. But let every man take heed how he buildeth thereupon."
Finally, we can have confidence that the minimal benefit of providence is the ability to remain faithful (Revelation 2:10; 1 Corinthians 10:13). Through providence, nothing and no one can separate us from God unless we allow it (Romans 8:35-39).