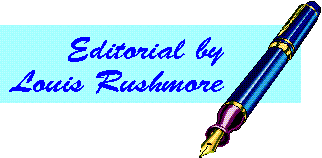 Vicarious Sacrifice
One of the worst snow storms to hit Washington, D.C. in decades buffeted the city on January 13, 1982. A considerable accumulation of snow brought automobile traffic to a halt. For instance, there was a giant traffic jam on the 12-lane 14th Street Bridge complex. This bridge spans the Potomac River and connects the District of Columbia to Arlington County, Virginia.

The moderate to heavy snowfall temporarily closed the Washington National Airport, three-quarters of a mile away. Among the affected aircraft was a Boeing 737-222 bound for Fort Lauderdale, Florida. This was Air Florida Flight 90, comprised of 74 passengers including three infants and a crew of 5. About an hour and forty-five minutes after the scheduled departure time, the plane took off from runway 36 at 3:59 p.m. The two-engine blue and green jetliner headed north and made a shallow left turn. The path of Air Florida Flight 90 presumed a 700 foot clearance over the 14th Street Bridge.

However, at 4:01 p.m., a mere two minutes after leaving the runway, and unable to stay aloft, nose raised and tail down, the ill-fated 737 crashed into the 14th Street Bridge. The aircraft struck seven occupied vehicles, shearing the roof from one automobile and crushing four other cars. It also ripped out 180 feet of railing before plunging between the bridge spans, through the ice to the bottom of the river, 30 feet deep. The plane vanished except for the tail section which had separated from the body of the aircraft and floated. In an instant, four motorists were injured, four motorists were killed and all but six people on the plane were dead. Five passengers and one flight attendant climbed from beneath the icy waters on to the wreckage of the tail section.

Rescue was dependent on the gallant efforts of the crew of a National Park Service helicopter. They lowered a line with a ring on it to a balding man in his 50's with a mustache. Instead of seizing the lifeline for himself, he passed it to another survivor. This he did when the helicopter returned four more times. However, when the helicopter made its sixth trip to the wreckage, Arland D. Williams, Jr. was gone. He perished beneath the icy waters with the balance of passengers and crew at the bottom of the Potomac River. Mr. Williams had elected to become a vicarious victim so that strangers could live! Another man, 2,000 years ago also became a vicarious victim so that strangers could live. Of course, that man was Jesus Christ.

The word vicarious means: "1 a : serving instead of someone or something else . . . 2 : performed or suffered by one person as a substitute for another or to the benefit or advantage of another : SUBSTITUTIONARY (a vicarious sacrifice)." (Merriam Webster's Collegiate Dictionary. Springfield, Massachusetts: Merriam-Webster, Incorporated, 1993.)

The core of our relationship with Jesus Christ, and by him our fellowship with the entire Godhead, pertains to the vicarious sacrifice of our Lord. The Gospel itself is defined in relationship to the vicarious death of Christ. First Corinthians 15:1-4 is often cited as the definition of the Gospel, summarized: the death, burial and resurrection of Jesus Christ. Verse three reads: "For I delivered unto you first of all that which I also received, how that Christ died for our sins according to the scriptures." The phrase "according to the scriptures" includes Isaiah 53.
"But he was wounded for our transgressions, he was bruised for our iniquities: the chastisement of our peace was upon him; and with his stripes we are healed . . . he hath poured out his soul unto death: and he was numbered with the transgressors; and he bare the sin of many, and made intercession for the transgressors" (Isaiah 53:5, 12).
Jesus Christ willingly became a sin-sacrifice for you and me. "For he hath made him to be sin for us, who knew no sin; that we might be made the righteousness of God in him" (2 Corinthians 5:21). "And walk in love, as Christ also hath loved us, and hath given himself for us an offering and a sacrifice to God for a sweetsmelling savour" (Ephesians 5:2). "Who gave himself for our sins, that he might deliver us from this present evil world, according to the will of God and our Father" (Galatians 1:4).

The preceding Scriptures except for the citation of Isaiah were written by the inspired pen of the apostle Paul. Elsewhere in the New Testament, Jesus, his apostles and other inspired writers likewise denote the vicarious sacrifice of Jesus for us. Jesus declared of himself: "Greater love hath no man than this, that a man lay down his life for his friends" (John 15:13) and "Even as the Son of man came not to be ministered unto, but to minister, and to give his life a ransom for many" (Matthew 20:28).

Peter wrote: "Who his own self bare our sins in his own body on the tree, that we, being dead to sins, should live unto righteousness: by whose stripes ye were healed" (1 Peter 2:24) and "For Christ also hath once suffered for sins, the just for the unjust, that he might bring us to God, being put to death in the flesh, but quickened by the Spirit" (1 Peter 3:18).

The apostle John penned: "Hereby perceive we the love of God, because he laid down his life for us: and we ought to lay down our lives for the brethren" (1 John 3:16). The Hebrews writer recorded: ". . . once in the end of the world hath he appeared to put away sin by the sacrifice of himself . . . So Christ was once offered to bear the sins of many . . ." (Hebrews 9:26, 28).

Even Divine-authored worship in the Gospel Age incorporates as a central focus the vicarious death-sacrifice of Jesus Christ. Especially, communion ties the faithful Christian to the vicarious death of Christ on his behalf. "For as often as ye eat this bread, and drink this cup, ye do shew the Lord's death till he come" (1 Corinthians 11:26). The vicarious death of Christ is immortalized through the emblems of the communion which represent his shed blood and tortured body on our behalf. Further, the benefits derived from the vicarious death-sacrifice of Christ permit Christians to pray to the Father. As indicated above (1 Corinthians 15:1-4), the central theme of the Gospel which we preach is the death, burial and resurrection of Jesus Christ. "But we preach Christ crucified . . ." (1 Corinthians 1:23).

The merit of the vicarious death-sacrifice of Jesus Christ manifests itself in his shed blood. The Old Testament is replete with references to animal sacrifices under patriarchy and Judaism, the blood of which foreshadowed the blood of the perfect sacrifice--Jesus Christ (Hebrews 9). "It was therefore necessary that the patterns of things in the heavens should be purified with these; but the heavenly things themselves with better sacrifices than these" (Hebrews 9:23). The New Testament is filled with references to the saving blood of our Lord (Acts 20:28; Ephesians 1:7; Colossians 1:14; Revelation 1:5).

Part of the biblical concept of redemption relates to the vicarious death of Christ. "To redeem" means to "buy back." Nothing on the earth, including the earth itself, is of sufficient worth to purchase even a single soul. For this reason, only the sacrificial death of the perfect Son of God is capable of securing our redemption. Divine blood, sacrificially shed for us, is the medium by which an infinitely holy and just God can reconcile sinful, wayward mankind back to himself. "For if, when we were enemies, we were reconciled to God by the death of his Son, much more, being reconciled, we shall be saved by his life" (Romans 5:10).
"Forasmuch as ye know that ye were not redeemed with corruptible things, as silver and gold, from your vain conversation received by tradition from your fathers; But with the precious blood of Christ, as of a lamb without blemish and without spot: Who verily was foreordained before the foundation of the world, but was manifest in these last times for you" (1 Peter 1:18-20).
Jesus purposely gave his life that the world, dead in sin, could live (John 6:51; 10:11, 15). Besides the passages quoted herein, numerous additional passages speak directly regarding the vicarious sacrifice of Christ that we might live (Romans 4:25; 5:6; 1 Corinthians 8:11; 2 Corinthians 5:14-15; Galatians 2:20; 1 Thessalonians 5:10; 1 Peter 4:1).

Our Lord's mission was to seek and save the lost (Luke 19:10). Jesus Christ is the author of eternal salvation unto all that obey him (Hebrews 5:8-9). Jesus is the captain of our salvation, which he accomplished through suffering in our stead.
"But we see Jesus, who was made a little lower than the angels for the suffering of death, crowned with glory and honour; that he by the grace of God should taste death for every man. For it became him, for whom are all things, and by whom are all things, in bringing many sons unto glory, to make the captain of their salvation perfect through sufferings" (Hebrews 2:9-10).
Summarized, Jesus died for us that we might live. "But God commendeth his love toward us, in that, while we were yet sinners, Christ died for us" (Romans 5:8).

Like Mr. Williams, Jesus could have saved himself. Jesus did not have to die for us; he could have called 12 legions of angels to rescue him from the cross (Matthew 26:53). However, our Lord voluntarily died that we might live. Like Mr. Williams, God wants people to be saved (2 Peter 3:9). The apostle Paul also earnestly desired that people would be saved (Romans 10:1). The apostle pleaded with King Agrippa to become a Christian (Acts 26:28-29).

Think back for a moment about Air Florida Flight 90. The untimely loss of any life is tragic. It is a very sad thought to realize that on January 13, 1982 Arland D. Williams, Jr. died while saving strangers. Just imagine how much more lamentable his death would be had one of those survivors jumped back into the river and drowned. Suppose for a moment that all five of the survivors for whom he forfeited his life jumped back into the water and died. How horrific it would be for him to have sacrificed himself in vain.

Yet, isn't this precisely what happens respecting Christ when people for whom Jesus came to this earth and died refuse to become Christians? Worse still is the fact that many who become Christians, and thereby have been rescued from the death of sin (Romans 6:23), return to unrighteousness (2 Peter 2:20-22). They are said to crucify Jesus again. "If they shall fall away . . . they crucify to themselves the Son of God afresh, and put him to an open shame" (Hebrews 6:6). The death of Jesus is in vain for each person who either does not become a Christian or who forsakes Christianity for the pleasures of sin for a season (Hebrews 11:25).

Dear Reader, have you appropriated the blessings of the Gospel of Christ on God's terms? Many fanciful plans of redemption have been authored by mankind. However, God is not obligated to accept any human plan in the Day of Judgment. All mankind will be judged by the Divine laws under which they lived (such as, patriarchy, Judaism or Christianity). "And I saw the dead, small and great, stand before God; and the books were opened: and another book was opened, which is the book of life: and the dead were judged out of those things which were written in the books, according to their works" (Revelation 20:12).

Let's go to heaven together! Hearken to God's Word only, whereby true faith develops (Romans 10:17). Allow that Bible faith to lead you to turn from your sins (Acts 17:30), acknowledge Jesus as Lord of your life (Romans 10:9-10; Acts 8:37) and submit to immersion in water for the remission of sins (Acts 2:38).

A wonderful thing happens at the point of baptism. Sins are washed away. "And now why tarriest thou? arise, and be baptized, and wash away thy sins, calling on the name of the Lord" (Acts 22:16). One is added to the body (church) of our Christ (1 Corinthians 12:13; Colossians 1:18). Souls are saved at the point of baptism (following hearing God's Word, believing, repenting and professing Christ) according to 1 Peter 3:21. ". . . baptism doth also now save us (not the putting away of the filth of the flesh, but the answer of a good conscience toward God,) by the resurrection of Jesus Christ."

Once one appropriates God's grace and mercy on the Divine terms, he needs to live faithfully for the rest of his life (Revelation 2:10). If the child of God sins, our benevolent God provides forgiveness upon penitence and prayer (Acts 8:22). Friends, let's go to heaven together!