---

We Are Under Attack – All of Us!
Louis Rushmore, Editor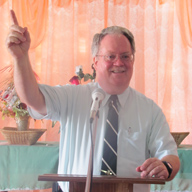 Especially lately, businesses have very publicly entered the fray of cultural transformation away from traditional and biblical values to the Godless embracing of the homosexual agenda. That agenda goes far beyond a quest for peaceful coexistence, first, to outright attacks on everyone and everything that dares harbor God's view on the subject, and secondly, to overtly convert every part and parcel of society to homosexuality. The laws of the land have been perverted. Children in the public schools are being indoctrinated with homosexuality, irrespective of the will of their parents. Denominations have incorporated homosexuality into their religions. Politicians at every level and the highest level (i.e., the President) in America frequently are champions for the sin of Sodom.
Activist companies vocal in favor of same-sex marriages or homosexual rights include Adobe, Allstate, Amazon, American Airlines, American Apparel, Apple, Applebee's, Ben & Jerry's (owned by Unilever), Best Buy, Boeing (the aircraft manufacturer), Clorox, Coca-Cola, Costco, Delta Airlines, EBay, Ford, Gap, General Mills, General Motors, Gerber Baby Products, Goldman Sachs, Google, Hershey, Hilton Hotels, Home Depot, IMB, Intuit, J.C. Penny, Kraft Foods, Levi's, Marriot International, McDonald's, Microsoft, Nabisco, Nationwide, Nike, Office Depot, Olive Garden, Pepsico, Proctor and Gamble, RealNetworks (makers of RealPlayer), Red Lobster, Rite Aid, Sears, Southwest Airlines, Starbucks, State Farm, Target, United Airlines, UPS, Walgreens and Walt Disney Company.
Doubtless, the list would be much longer than this already staggering display were I to continue looking for public declarations by or about the household names of familiar companies – several with which you and I do business, sometimes involuntarily. It is no longer a simple thing for the consumer to give a financial spanking to companies venturing into the purposeful alteration of what was once a Bible-based society and culture. The foregoing demonstrates pandemic infection with the sin or tolerance of the sin of homosexuality throughout our nation – really all of western society and beyond into much of the world. The degree to which the tide against morality has surged is gravely disheartening!
Companies' support of so-called homosexual rights include donations of many millions of dollars for the promotion of judicial changes favorable to homosexuals and sponsoring events. These businesses have wormed their way into our government, schools, workplaces and homes. For instance, the J.C. Penny Company recently chose an avowed lesbian, Ellen DeGeneres, to be its new spokesperson. Despite criticism, J.C. Penny proceeded to feature homosexual men in a Father's Day advertisement. Conservative, religious Americans typically do two things in response to the announced direction of these businesses: Most do nothing! Others offer dissent, and are willing to exercise that dissent by refraining from spending their money with companies that openly promote the homosexual agenda.
Companies taking a public stand against homosexuality include, Cracker Barrel, Exxon, Urban Outfitters, Wal-Mart, Chick-fil-A and Cinemark. The most recent hoopla by the liberal left, homosexual partisans against a company not in favor of homosexuality arose from the stated beliefs at the helm of Chick-fil-A. "…Cathy set off a nationwide drama recently by saying he supports the 'biblical definition of a family' and believes Americans have a 'prideful, arrogant attitude' about gay marriage that risks 'inviting God's judgment on our nation'" (Brady). Amen, amen, I say! Subsequently, Chicago Mayor Rahm Emanuel and Boston Mayor Thomas Menino have severely and publicly chastised Chick-fil-A as unwelcome in their cities. "The Jim Henson Company pulled its Muppet toys from Chick-fil-A meals and promised to donate whatever money those toys have made to the gay rights group GLAAD" (Brady). Who cannot be painfully aware of the spiritual battle that rages in every neighborhood?
These days everyone can have an opinion except for God and those who revere God. Free speech and freedom of religion, apparently, belong only to those in the mire of debauchery or the defenders of the same. Did you know that God equally condemns the sin of homosexuality and the sin of approving homosexuality (Romans 1:26-32)?
In Brief, What Does God's Word Say about Homosexuality?
Take notice that the Bible severely condemns homosexuality (Genesis 19:1-29; Leviticus 18:22; 20:13; Deuteronomy 23:17; 1 Kings 14:24; 15:12; 22:46; 2 Kings 23:7; Luke 17:29; 2 Peter 2:6; Jude 7; Romans 1:26-32; 1 Corinthians 6:9-11; 1 Timothy 1:9-11). For every Bible believer, that should be the end of the reflection about the propriety of homosexuality!
Not only is homosexuality a sin about which God speaks in the Bible – in both testaments,   God considers this conduct belonging to a sub-category of sin called "an abomination" (Leviticus 18:22). Under each religious period in the Bible – Patriarchy, Judaism and Christianity – Almighty God our Creator and Judge condemned and still condemns homosexuality.
Under the former religious periods of Patriarchy (Genesis 19) and Judaism, God considered the practice of homosexuality cause for capital punishment. "If a man lies with a male as he lies with a woman, both of them have committed an abomination. They shall surely be put to death. Their blood shall be upon them" (Leviticus 20:13-14 NKJV). Since God does not work miraculously today (in the biblical sense of miracles, 1 Corinthians 13:8-12), He does not strike down sinners today as He did the cities of Sodom and Gomorrah (2 Peter 2:6) under Patriarchy. Since Christianity is not a physical kingdom like Judaism was, but is rather a spiritual kingdom (John 18:36), Christians do not advocate capital punishment toward homosexuals. However, homosexuality is nevertheless sinful for which those who practice it and do not repent will be punished eternally by God.
God's viewpoint about homosexuality in the New Testament era is not the least vague. God continues to harshly condemn homosexual practices. "Do you not know that the unrighteous will not inherit the kingdom of God? Do not be deceived. Neither fornicators, nor idolaters, nor adulterers, nor homosexuals, nor sodomites, nor thieves, nor covetous, nor drunkards, nor revilers, nor extortioners will inherit the kingdom of God" (1 Corinthians 6:9-10). The good news, though, is that homosexuals can repent of this sin and receive forgiveness. "And such were some of you. But you were washed, but you were sanctified, but you were justified in the name of the Lord Jesus and by the Spirit of our God" (1 Corinthians 6:11).
What Can We Do?
We can remain true to the Word of God. Do not practice homosexuality. Do not become oblivious to the homosexual agenda. Do not adopt toleration of homosexuality. Take your biblical morals to the ballot box and vote for those who will oppose legalization of homosexuality and the transformation of our nation into an anti-God, anti-Bible and debauched nation of homosexuals.
If you are in a religion that no longer has enough respect for the Word of God to refrain from incorporating into itself the acceptance of homosexuality, come out of that errant religious faith. Go back to the Bible; be a New Testament Christian, a follower of Jesus Christ. Do not become lax in your biblical stance against homosexuality, even if a family member embraces homosexuality. Take the narrow road with courage rather than the broad way to destruction (Matthew 7:13-14).
Just today, one of the two major political parties in America – the Democratic Party – has opted to bring itself in line with the President by adopting homosexual marriage as part of its political platform. The lines have never before been so clearly drawn by which Bible believing people can distinguish between the sinful direction in which our nation is marching (to its own spiritual and literal destruction) and a corrective course characterized by embracing once again biblical values and morals. Yet, both major political parties in the USA (i.e., the Republican Party, too) have among their ranks, even sometimes at the top, proponents of the homosexual agenda (Log Cabin).
Doubtless, each political party has within it those who stand for biblically objectionable positions, and voters ought to examine each individual candidate irrespective of political affiliation. Our form of government in the United States permits Bible believers to act upon their faith at the ballot box, and shame, shame on any of us who allow political affiliations, economics or ethnicity to overshadow what is righteous in God's eyes. Do you view yourself as belonging to God first, or do you consider yourself of a particular political party, a certain socioeconomic class or of a racial group before you acknowledge allegiance to the Great, Almighty God, our Creator and ultimately our Judge? In truth, we ought to embrace our relationship to God even before we consider our national alliance. Is God and His Word first in your life?
The sheer magnitude of the number of companies that have endorsed the homosexual agenda may make it impossible pragmatically to boycott all of them. However, when we have a choice, we need to refrain from rewarding the offending companies with the dollars of Bible believers. Instead, we should especially reward businesses that publicly (at great economic risk to themselves) endorse the moral values on which the nation was established. At least, when we have an option to do so, Bible believers need to patronize businesses that are neutral in the culture war. Every member of the churches of Christ, every Baptist and members of many other religious faiths in America ought to put their dollars where they profess their faith lies, in the God of the Bible.
We are under attack – all of us! We are all victims of Satan's homosexual agenda for America (and elsewhere in the world). We can resign ourselves to defeat and do nothing, or we can take this country back from the crags on the edge of the hellish abyss toward which our nation of people are perilously sliding. Who knows? Maybe Bible believers can avert God's vengeance on our country. Someone once said something to the effect, "If God does not punish America for its headlong rush into homosexuality, then He owes Sodom and Gomorrah an apology!"

Works Consulted or Cited
 "10 Pro Gay Companies To Go And Spend All Your Money With." Queeried.com. 27 Jul 12. <https://www.queeried.com/10-pro-gay-companies-to-go-and-spend-all-your-money-with/>.
Brady, Diane. "God and Gay Marriage: What Chick-fil-A Could Learn from Marriott." BloombergBusinessweek. 26 Jul 12. 27 Jul 12. <https://www.businessweek.com/articles/2012-07-26/god-and-gay-marriage-what-chick-fil-a-could-learn-from-marriott>.
Bullock, Diane and Sterling Wong. "Where Companies Stand on Gay Rights." MSN.Money. 27 Jul 12. <https://money.msn.com/investing/where-companies-stand-on-gay-rights>.
"Hershey's." FaithDrivenConsumer. 27 Jul 12. <https://reviews.faithdrivenconsumer.org/CompanyReviews/CompanyDetails.aspx?id=60&catid=24&ove=2.0>.
Kiesel, Meghan. "For or Against? Companies Come Out on Gay Marriage." Otus News. 19 Jul 12. 27 Jul 12. <https://abcnews.go.com/Politics/OTUS/companies-gay-marriage/story?id=16812037#>.
La Corte, Rachel. "In Gay Marriage Fight, Some Companies Take a Stand." USA Today/Money. 27 Jul 12. <https://www.usatoday.com/money/companies/management/story/2012-07-27/gay-marriage-corporations/56544826/1>.
Log Cabin Republicans. 8 Aug 2012. <https://www.logcabin.org/site/c.nsKSL7PMLpF/b.5468093/k.BE4C/Home.htm>.
Morris, Kelly. "Companies that Support Gay Rights." Yahoo Voices! 19 Feb 12. 27 Jul 12. <https://voices.yahoo.com/companies-support-gay-rights-10968324.html>.
Williams, Steve. "Office Depot Supports Lady Gaga's Anti-Bullying Foundation." Care2. 22 Jul 12. 27 Jul 12. <https://www.care2.com/causes/office-depot-supports-lady-gagas-anti-bullying-foundation.html>.
Click Here for a FREE monthly reminder when each new issue
of Gospel Gazette Online has been published to the Internet.
Click Here to send the URL for this page to a friend
Click Here to send your comments about this page to Gospel Gazette Online