---

Mrs. Potiphar, Persistent in Unrighteousness
By Bonnie Rushmore
Character Study
Genesis 39:1-20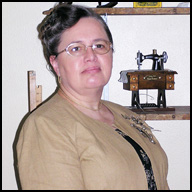 Joseph was sold into slavery by his jealous brothers. Potiphar, an officer of the Pharaoh of Egypt, purchased Joseph. This young, teenage boy was a good worker and conscientiously fulfilled his duties as a slave. God watched over Joseph and caused him and Potiphar's house to prosper. Eventually, Potiphar raised Joseph to a position of authority to the extent that Potiphar turned complete control of maintaining the house, fields and finances to Joseph. Potiphar's complete trust in Joseph allowed Potiphar to say that "he did not know what he had except for the bread which he ate" (Genesis 39:6).
This young Hebrew was a handsome man, taking after in his mother, Rachel (Genesis 29:17; 39:6). Mrs. Potiphar noticed this Hebrew slave and was impressed with his beauty. She invited Joseph to "lie with her." Joseph refused her offer, explaining he had been given authority over everything but her and to accept her offer would be an insult to Potiphar and a sin against God. Mrs. Potiphar was not dissuaded from her evil desire; she daily begged Joseph to sleep with her. One day when no other men were in the house, Mrs. Potiphar grabbed Joseph's coat and demanded that he sleep with her. Joseph refused and ran from the house, leaving his coat in her hand. To hide her shame and humiliation, Mrs. Potiphar screamed out to the others, with Joseph's coat in her hand as evidence, and accused Joseph of attacking her. Mrs. Potiphar then laid the coat on the bed beside her and awaited her husband's return. She told Mr. Potiphar the same story. Naturally, he became angry and cast Joseph into prison for the alleged attack on Mrs. Potiphar. One may wonder if Potiphar wholly believed the accusation against Joseph since he imprisoned his slave instead of executing him for such a crime.
The life of Joseph does not end with him in prison. God continued to watch over Joseph. Eventually, Joseph was released from prison and was once again placed in a position of authority. However, our study is not on Joseph and God's providential care. Our emphasis in this lesson is to glean lessons from Mrs. Potiphar.
Applicable Principles
Mrs. Potiphar had the "I Syndrome"
Mrs. Potiphar concerned herself with her wants. She did not contemplate the desires and needs of others. She was only thinking about "me, myself and I." Her desires outweighed everyone and everything else. Mrs. Potiphar wanted Joseph. She gave no thought to how her desires would affect Joseph, Mr. Potiphar or anyone else. She knew what she wanted and demanded to have her wishes fulfilled.
Many today are like Mrs. Potiphar. They have the "I syndrome" thinking only of "me, myself and I." The Scriptures have much to say about this ungodly trait. Matthew 7:12 states, "Therefore all things whatsoever ye would that men should do to you, do ye even so to them: for this is the law and the prophets." This verse is often referred to as the "golden rule." We are to treat others as we want to be treated. Jesus further explains that this behavior was first implemented in the Old Law. Moses told the children of Israel to "love thy neighbor as thyself" (Leviticus 19:18). If we love ourselves, we will want only good for ourselves; thus when we love others as we love ourselves, we will want good for others. We will treat others as we want to be treated. When a lawyer asked Jesus, "which is the great commandment," Jesus replied, "Thou shalt love the Lord thy God with all thy heart, and with all thy soul, and with all thy mind. This is the first and great commandment. And the second is like unto it, Thou shalt love thy neighbour as thyself. On these two commandments hang all the law and the prophets" (Matthew 22:37-40). Our interaction with others hinges on loving God first and foremost and loving others as we love ourselves. Jesus made these two commands equal. We cannot do one without fulfilling the other.
Paul explained this principle in the Galatians epistle; "For all the law is fulfilled in one word, even in this; Thou shalt love thy neighbour as thyself" (Galatians 5:14). The Roman brethren needed a lesson on this subject as well. "For this, Thou shalt not commit adultery, Thou shalt not kill, Thou shalt not steal, Thou shalt not bear false witness, Thou shalt not covet; and if there be any other commandment, it is briefly comprehended in this saying, namely, Thou shalt love thy neighbour as thyself (Romans 13:9). Paul listed specific sins — lying, adultery, stealing, murder, covetousness and all other sins that are included in failing to love others as we love ourselves.
These few verses show the sin of the "I syndrome." This attitude will prohibit one from entering heaven. Do not be a Mrs. Potiphar; remove the "I syndrome" from your life before it is eternally too late.
Mrs. Potiphar Was a Liar
Lying is another character flaw in Mrs. Potiphar. When she did not get what she wanted, she lied. Joseph was righteous in all his dealings with Potiphar, and her accusations were without merit.
Nelson's Bible Dictionary defines a lie as, "Any statement or act designed to deceive another person. The motivation for most lying is a desire either to hurt the one against whom the lie is directed or to protect oneself, usually out of fear or pride." A lie is a falsehood, an untruth or an attempt to deceive another with our words or actions. A liar is one who will "utter an untruth or attempt to deceive by falsehood." (New Unger's) God's attitude toward liars is evident throughout the Scriptures; consider the following quote from International Standard Bible Encyclopaedia:
God's attitude toward this sin is strongly marked throughout both the Old Testament and New Testament. The righteous are called upon to hate lying (Prov 13:5), to avoid it (Zeph 3:13), to respect not those who lie, and utterly reject their company (Ps 40:4; 101:7), to pray to be delivered from it (Ps 119:29). The wicked are said to love lying (Ps 52:3), to delight in it (Ps 62:4), to seek after it (Ps 4:2), and to give heed to it (Prov 17:4). Lying leads to worse crimes (Hos 4:1-2).
The subject of lying and examples of liars appear from cover to cover in the Bible. The art of lying was first employed by Satan in the Garden of Eden. The devil in the form of a serpent used lies to entice Eve to eat of the forbidden fruit. Jesus affirmed that the devil is a liar and the father of lies (John 8:44). The closing verses of the Bible state, "But the fearful, and unbelieving, and the abominable, and murderers, and whoremongers, and sorcerers, and idolaters, and all liars, shall have their part in the lake which burneth with fire and brimstone: which is the second death" (Revelation 21:8). Those who love and practice lies will not enter heaven (Revelation 22:14).
Throughout biblical history mankind has been plagued with this sin. Many notable Bible characters were guilty of lying at some point in their lives. Sometimes, those lies were half-truths used under the guise protecting someone or something. Nevertheless, they were words or actions used in an attempt to deceive another.
If we tell a lie to make someone feel better, it may soothe one's feelings, but it is still a falsehood in God's eyes, and it will keep one from entering heaven. It would be better to say nothing than to use false words or actions to appease someone's feelings.
Do not be a Mrs. Potiphar, telling lies to harm another or to protect oneself. Always speak the truth in love (Ephesians 4:17).
Mrs. Potiphar Was Immoral
Immoral is the opposite of moral. Synonyms for moral include ethical, right, honest, decent, proper, honorable, just and principled. An immoral person is one who is unethical, dishonest or improper in behavior and attitude. Mrs. Potiphar met each of these latter characteristics.
God expects His children to act morally. "Know ye not that the unrighteous shall not inherit the kingdom of God? Be not deceived: neither fornicators, nor idolaters, nor adulterers, nor effeminate, nor abusers of themselves with mankind, Nor thieves, nor covetous, nor drunkards, nor revilers, nor extortioners, shall inherit the kingdom of God. And such were some of you: but ye are washed, but ye are sanctified, but ye are justified in the name of the Lord Jesus, and by the Spirit of our God" (1 Corinthians 6:9-11). The apostle Paul was speaking to the Christians at Corinth. These individuals practiced these unrighteous behaviors. Now that they have obeyed the Gospel, they have put off their worldly behaviors.
Paul contrasted immorality with morality in Galatians 5:19-21.
Now the works of the flesh are manifest, which are these; Adultery, fornication, uncleanness, lasciviousness, idolatry, witchcraft, hatred, variance, emulations, wrath, strife, seditions, heresies, envyings, murders, drunkenness, revellings, and such like: of the which I tell you before, as I have also told you in time past, that they which do such things shall not inherit the kingdom of God. But the fruit of the Spirit is love, joy, peace, longsuffering, gentleness, goodness, faith, meekness, temperance: against such there is no law.
Do not be a Mrs. Potiphar. Fortify yourself with the fruits of the Spirit, living a moral life.
Mrs. Potiphar Was Persistent
As we study the life of Mrs. Potiphar, one should observe that this is a woman that we must not emulate. However, she had one quality that each of us should incorporate into our lives. Mrs. Potiphar was persistent in trying to fulfill her desires. While she used this good quality in a negative way, we should be persistent in righteousness.
Persistence is needed in:
Prayer "Confess your faults one to another, and pray one for another, that ye may be healed. The effectual fervent prayer of a righteous man availeth much" (James 5:16).
Bible Study "These were more noble than those in Thessalonica, in that they received the word with all readiness of mind, and searched the scriptures daily, whether those things were so" (Acts 17:11).
Moral behavior "Teaching us that, denying ungodliness and worldly lusts, we should live soberly, righteously, and godly, in this present world" (Titus 2:12).
Evangelism "So that ye were ensamples to all that believe in Macedonia and Achaia. For from you sounded out the word of the Lord not only in Macedonia and Achaia, but also in every place your faith to God-ward is spread abroad; so that we need not to speak any thing" (1 Thessalonians 1:7-8).
Parenting "And, ye fathers, provoke not your children to wrath: but bring them up in the nurture and admonition of the Lord" (Ephesians 6:4).
These are just a few areas where persistence is needed in our lives. I am sure you can think of other areas in which we ought to be persistent as well.
Are you a Mrs. Potiphar? Do you have the "I syndrome"? Are you considered a liar by those who know you? Have you allowed the immorality of the world to seep into your thoughts and behavior? Are you persistent in unrighteousness? If so, please repent and turn to God so that we may rejoice in heaven together.

Works Cited
International Standard Bible Encyclopedia. CD-ROM. Seattle: Biblesoft, 1996.
Nelson's Illustrated Bible Dictionary. CD-ROM. Nashville: Nelson, 1986.
New Unger's Bible Dictionary. CD-ROM. Chicago: Moody P., 1988.
Click Here for a FREE monthly reminder when each new issue
of Gospel Gazette Online has been published to the Internet.
Click Here to send the URL for this page to a friend
Click Here to send your comments about this page to Gospel Gazette Online