| | |
| --- | --- |
| Vol. 6, No. 11 | November 2004 |
The Joy of Christianity
By Ernest S. Underwood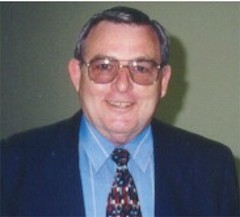 Reference to joy is frequently made in the Scriptures. David speaks of the fullness of joy. He said, "Thou wilt shew me the path of life: in thy presence in fullness of joy; at thy right hand there are pleasures forevermore" (Psalm 16:11). In the parable of the hidden treasure Jesus stated that a man had found that treasure, and "for joy thereof goeth and selleth all that he hath and buyeth that field " (Matthew 13:44). Fourteen times in the Book of Philippians Paul makes reference to joy or rejoicing. The life of a Christian is a life of joy. In Galatians 5:22 we are told that "the fruit of the Spirit is love, joy, peace, longsuffering, kindness, goodness, faithfulness."
The Christian has joy and rejoicing because he knows he has been made alive spiritually by the blood of the precious Christ. The new disciples of Acts 2 had gladness of heart. The eunuch of Acts 8 went on his way rejoicing. The jailor of Acts 16 "rejoiced greatly having believed in God." There is cause for rejoicing when one realizes that through his obedience to the Gospel the burden of sin is lifted.
As a child of God grows toward maturity, great joy is derived from knowing that as one continues to walk in the light of God's Word, God is well pleased. There is joy in knowing that one has been sanctified by that Word, and as long as he remains in and by that Word, he will not be blown about by every wind of doctrine. The joy acquired by being faithful to God's Word is second to none. Truly, a Christian, a true one, is the happiest person in the world.
The joy of Christianity comes from within. For this reason his outward circumstances do not hinder that joy. Consider our Lord. He came to do the will of the Father. The knowledge that he was doing this caused such joy that even the cross could not erase it. Concerning this event the Hebrew writer stated, "Who for the joy that was set before him endured the cross, despising the shame, and hath sat down at the right hand of the throne of God" (Hebrews 12:2).
In Matthew 5:11-12, Jesus taught his disciples to "rejoice and be exceedingly glad" when they were persecuted falsely for his name's sake. This they did, as is found in the example of Acts 5:41.
To the child of God, Christian worship and daily service are a joy. For this reason no true child of God will want to miss any opportunity to gather with fellow-saints at every service possible where God is being worshiped, and his Word is studied. Neither will he spurn the opportunity to serve. Is your life one of joy?