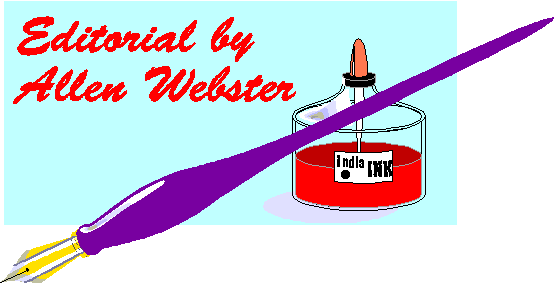 Why Caleb Lived
On A Mountain, Part 2
Some live on mountains to be isolated. Others like the view. A few (who moved from lower elevations) like it because "the basement never floods." In Old Testament times, mountain property was popular for a reason that might escape our modern notice. Living for the most part in what we could call a "military state" in days of hand-to-hand fighting, they found that the high ground was much easier to defend than a valley. Jerusalem, for instance, made an ideal capital for David because it is located on top of a mountain (cf., Isaiah 2:2-3). Caleb received one of the mountains of Canaan as his family's inheritance. Why, of all the Israelites, did Caleb receive such a choice location?

Caleb Lived On A Mountain Because He Refused To Hedge. In a time when it was popular to diversify, Caleb put all his eggs in the same basket. He wholly followed the Lord (Deuteronomy 1:36; Joshua 14:8-10). Every ounce, every inch, every nerve, every fiber belonged to God (Psalms 119:145). Jesus did not pour out his blood at Calvary so we could be half-hearted (John 6:27; Philippians 2:12-13; Hebrews 2:3; 4:11; 2 Peter 1:101) or lukewarm (Revelation 3:16). The house of Stephanas "addicted2 themselves to the ministry of the saints" (1 Corinthians 16:15) and the Macedonians "first gave their own selves to the Lord" (2 Corinthians 8:5). Paul wrote, "Meditate upon these things; give thyself wholly to them; that thy profiting may appear to all. Take heed unto thyself, and unto the doctrine; continue in them: for in doing this thou shalt both save thyself, and them that hear thee" (1 Timothy 4:15-16). God's family is a "peculiar people, zealous of good works" (Titus 2:14).

A few centuries before Christ a man named Alexander conquered almost all of the known world using military strength, cleverness and a bit of diplomacy. Once Alexander and a small company of soldiers approached a strongly fortified walled city. Alexander, standing outside the walls, demanded to see the king. When he arrived, Alexander insisted that the city surrender. The king laughed, "Why should I surrender to you? You can't do us any harm!" But Alexander offered to give the king a demonstration. He ordered his men to line up single file and start marching. He marched them straight toward a sheer cliff. The townspeople gathered on the wall and watched in shocked silence as, one by one, Alexander's soldiers marched without hesitation right off the cliff to their deaths! After ten soldiers died, Alexander ordered the others to return to his side. The king immediately surrendered. He realized that if a few men were actually willing to commit suicide at this leader's command, then nothing could stop his eventual victory. Are we willing to be as obedient to the ruler of the universe, Jesus Christ? Are we that dedicated and committed?

He Refused To Be Bitter About The Past. Because the ten had the hearts of grasshoppers, the lionhearted one had to delay his victory for four decades. When Israel finally entered the Promised Land, Caleb was an old man. He could have complained about the wasted time. He could have given up because the majority was wrong. But he didn't become bitter or lose focus. Instead of looking back, Caleb looked ahead and claimed his mountain. We sometimes have to suffer for the mistakes of others, but we cannot become bitter and unforgiving. Paul wrote, "Let all bitterness, and wrath, and anger, and clamour, and evil speaking, be put away from you, with all malice" (Ephesians 4:31). Thomas Hood (1799-1845) said, "An irritable person is like a hedgehog rolled up the wrong way, tormenting himself with his own prickles." In his book, Lee: The Last Years, Charles Bracelen Flood reports that after the Civil War, Robert E. Lee visited a Kentucky lady who took him to the remains of a grand old tree in front of her house. There she bitterly cried that its limbs and trunk had been destroyed by Federal artillery fire. She looked to Lee for a word condemning the North or at least sympathizing with her loss. After a brief silence, Lee said, "Cut it down, my dear Madam, and forget it." It is better to forgive the injustices of the past than to allow them to remain and to let bitterness take root and poison the rest our life.3 Love "thinketh no evil" (1 Corinthians 13:5) and focuses on "good things" (Philippians 4:8). Jesus taught, "And when ye stand praying, forgive, if ye have ought against any: that your Father also which is in heaven may forgive you your trespasses" (Mark 11:25).

There is some value in looking back, of course. After all, Moses would later tell some of these very people: "And thou shalt remember all the way which the Lord thy God led thee these forty years in the wilderness, to humble thee, and to prove thee, to know what was in thine heart, whether thou wouldest keep his commandments, or no" (Deuteronomy 8:2). We look back to remember Christ and his death for us in the Lord's Supper, but we also look ahead to the time when Christ will come again for us (1 Corinthians 11:24). We need to check our rear-view mirrors occasionally when driving, but if we look back too much, we'll have an accident. When looking back keeps us from looking ahead, then we are disobeying God. Paul expressed the Christian's philosophy in these words: "Brethren, I count not myself to have apprehended: but this one thing I do, forgetting those things which are behind, and reaching forth unto those things which are before, I press toward the mark for the prize of the high calling of God in Christ Jesus" (Philippians 3:13-14).

Harry S. Truman once said, "Men who live in the past remind me of a toy I'm sure all of you have seen. The toy is a small wooden bird called the 'Floogie Bird.' Around the Floogie Bird's neck is a label reading, 'I fly backwards. I don't care where I'm going. I just want to see where I've been.'" Jesus spoke plainly about the danger of looking back to the previous life when he said, ". . . No man, having put his hand to the plow, and looking back, is fit4 for the kingdom of God" (Luke 9:62; cf. 2 Timothy 4:10; Hebrews 10:38; 2 Peter 2:20-22). Paul said, ". . . let us run with patience the race that is set before us, Looking unto Jesus the author and finisher of our faith; who for the joy that was set before him endured the cross, despising the shame, and is set down at the right hand of the throne of God" (Hebrews 12:1-2).

Don't settle for less than a "Mountain Avenue" address (in the Promised Land).
Endnotes

---
1seek (zeteo); KJV—seek 100, seek for 5, go about 4, desire 3, misc. 7; 119; "to crave, demand something from someone"

2tasso, "to arrange in an orderly manner, determine."

3Michael Williams, Morganfield, Kentucky. Leadership, Vol. 5, No. 4.

4euthetos, "well placed, appropriate."