---

Trust in the Lord – Always!
Marilyn LaStrape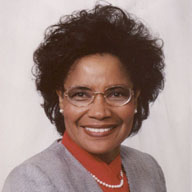 Trust defined is "reliance on the integrity, strength, ability, of a person or thing; confidence, dependence." When these descriptive words are used in relation to God, they are to the superlative.
For trust to be real in the lives of Christians, we must first understand that we cannot and we will not trust God if we do not know Him. Everything that God wants us to know about Him in order for us to develop trust in Him has been revealed in the Bible.
For the purposes of this article, six questions will be addressed and then answered with Scripture. Romans 10:17 says, "So then faith comes by hearing, and hearing by the word of God." All of us who trust in God had to hear, believe and obey His Word. Trust is a result of that decision.
Who should trust in God?
"The LORD also will be a refuge… in times of trouble. And those who know Your name will put their trust in You; for You, LORD, have not forsaken those who seek You" (Psalm 9:9-10).
"Who among you fears the LORD? Who obeys the voice of His Servant? Who walks in darkness and has no light? Let him trust in the name of the LORD and rely upon his God" (Isaiah 50:10).
When should we trust in God?
"Whenever I am afraid, I will trust in You" (Psalm 56:3).
"Trust in Him at all times, you people; pour out your heart before Him; God is a refuge for us" (Psalm 62:8).
Where should we trust in God?
"Oh, how great is Your goodness, which You have laid up for those who fear You, which You have prepared for those who trust in You in the presence of the sons of men!" (Psalm 31:19).
"Be merciful to me, O God, be merciful to me! For my soul trusts in You; and in the shadow of Your wings I will make my refuge, until these calamities have passed by" (Psalm 57:1).
What would cause us to trust in God?
"The fear of man brings a snare, but whoever trusts in the LORD shall be safe. Many seek the ruler's favor, but justice for man comes from the LORD" (Proverbs 29:25-26).
"Behold, God is my salvation, I will trust and not be afraid; for the LORD God is my strength and song; He also has become my salvation" (Isaiah 12:2).
Why should we trust in God?
"It is better to trust in the LORD than to put confidence in man. It is better to trust in the LORD than to put confidence in princes" (Psalm 118:8-9).
"You will keep him in perfect peace, whose mind is stayed on You, because he trusts in You. Trust in the LORD forever, for in the LORD, is everlasting strength" (Isaiah 26:3-4).
How should we trust in God?
"But it is good for me to draw near to God; I have put my trust in the Lord God, that I may declare all Your works" (Psalm 73:28).
"Trust in the LORD with all your heart, and lean not on your own understanding; in all your ways acknowledge Him, and He shall direct your paths" (Proverbs 3:5-6).
Psalm 143:8 can serve as a prayer as we trust in God. "Cause me to hear Your loving kindness in the morning, for in You do I trust; cause me to know the way in which I should walk, for I lift up my soul to You."
First Timothy 4:10 strengthens our faith, confidence, dependence and trust in God. "For to this end we both labor and suffer reproach, because we trust in the living God, who is the Savior of all men, especially of those who believe."

Click Here for a FREE monthly reminder when each new issue
of Gospel Gazette Online has been published to the Internet.
Click Here to send the URL for this page to a friend
Click Here to send your comments about this page to Gospel Gazette Online