This biographical sketch is no longer
being updated and may be outdated.
Tom Moore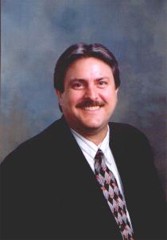 is a graduate of the Southwest School of Bible Studies in Austin, Texas, and is in his 15th year of full time gospel preaching. He has preached in local congregations in Laurel (Delaware), Buna (Texas), Comanche (Texas), and presently preaches for the Lord's church in Port Lavaca, Texas. Tom has also done course work at Jerusalem University College in Jerusalem, Israel and is presently continuing his education at Southern Christian University.

Tom is one of the editors and founders of Seek Ye First, a free quarterly Gospel journal. He is also on the editorial staff of Contending for the Faith. Tom has done campaign work in Ghana, West Africa, Jamaica, and speaks on several lectureships each year and holds Gospel Meetings as well.

Tom's father (Grady Moore) is an elder in the Lord's church in Dripping Springs (TX) as was his father (Silas Jarrell Moore) before him, and his brother (John Moore) is an instructor at the Southwest School of Bible Studies.

Tom is married to the former Carole E. Myers of Austin, Texas. They have three children: Brandi, Seth (deceased), Joshua, and one granddaughter, Hailey.